Private WiFi Certified as McAfee Secure Site
Private WiFi's website has been certified as a McAfee Secure Site.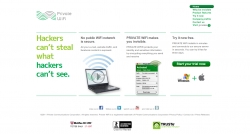 Sherman, CT, September 28, 2011 --(
PR.com
)-- Private WiFi, a young and innovative company in the security software market, is excited to announce that their website, privatewifi.com, has been approved as a McAfee Secure Site. "While it is no surprise to us," says Kent Lawson, Private WiFi's CEO, "it means a great deal to get recognition from such a prestigious company as McAfee that our website is a secure and safe website for users to visit."
Websites that are labeled as secure by McAfee are tested daily by a thorough scan to ensure that they are not committing
identity theft
, or have viruses, spyware, and other online threats embedded in their site.
"We have also been a BBB (Better Business Bureau) accredited business for almost a year, and have received the TRUSTe seal, which means that our website is safeguarding our user's personal information, and that we value their privacy," adds Lawson. "This kind of certification and recognition fits with our company mission to help safeguard a user's privacy and personal information from unwanted intrusion."
About Public WiFi Security Risks
Public WiFi usage has been increasing exponentially in recent years due to its convenience and accessibility. It has become so easy to log on from just about anywhere: coffee shops, airports, public libraries, and hotel rooms, among many other places. However, plenty of people are not aware the security risks inherent in using a
wifi network
.
WiFi networks do not use physical cables to connect computers to one another. Instead, they use radio waves. This means that when you connect to a public network, you are basically exposing your notebook files, including personal data such as credit card info, passwords, and social security number, to anyone within that network. This development has led to a different type of hacking called "sniffing." Sniffers are computer tools that don't require physical access to your computer. With the right software, easily available on the Internet, hackers can use sniffers to steal any unencrypted data on a public WiFi network. It could even be the guy sipping his coffee at the table right next to you.
About Private WiFi
Private Communications Corporation is a security technology company that protects personal data and information online. Private WiFi, the company's flagship software product, encrypts all computer data across unencrypted WiFi networks, enhancing online privacy for those without access to
wireless VPNs
. Founded by software entrepreneur Kent Lawson, Private Communications Corporation is headquartered in Sherman, CT. For more information, visit us at
http://www.privatewifi.com
and for articles and other online privacy resources, please visit www.private-i.com. You can also connect with us on Facebook at http://www.facebook.com/privatewifi.
###
Contact
Private WiFi
Mike Neder
1-914-484-0940
www.privatewifi.com

Contact