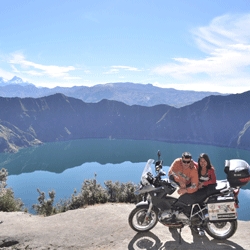 Quito, Ecuador, September 30, 2011 --(
PR.com
)-- In a country where a gallon of gas still costs $1.48, an old-fashioned, glass bottle of Coca-Cola is only 40 cents and a 3-course lunch costs just $2, it is not surprising that motorcycle tours in Ecuador are some of the best values in the world.
Ecuador Freedom Bike Rental has been responding to customers who want a fantastic adventure that won't set them back financially. The company has developed self-guided GPS tours that are quite popular. The tours include low mileage motorcycles with unlimited mileage, helmets, gloves, pre-programmed routes, and maps. In Ecuador an adventure motorcyclist can have all this, and accommodations too, for as little as $85 a day.
"In today's tough economic atmosphere, we knew that we had to put together some fantastic tours with world-class luxury accommodations that cost about half of what you would spend on a tour in Argentina, USA or Mexico," explains Sylvain Gallea, of Lyon France, co-owner of Ecuador Freedom Bike Rental. "The response so far has been beyond our expectations."
A fully guided tour for 12 days in single 4-star accommodations costs as little as $3980 with everything, including meals and entry fees, included. Compare this with other countries where the price can be $8000-$9000 or more.
Ecuador is one of the most intensely interesting places in the world. It is the most bio-diverse and geologically-diverse country on the planet. In a single day's astonishing motorcycle ride you can see the Amazon jungle, snow-capped volcanoes, and warm, sandy beaches. It is now becoming one of the best value motorcycle destinations available to adventure motorcycle riders anywhere in the world.
About Ecuador Freedom Bike Rental
Ecuador Freedom Bike Rental is a full-service mountain bike, motor-scooter and motorcycle rental shop located in Quito, Pinchincha. They are open 7 days a week and provide rentals at reasonable daily and weekly rates. Working with local professional tour guides, they provide tours, advice and adventure for motorcycle adventure enthusiasts who want to explore Ecuador on two wheels.
For more information:
FreedomBikeRental.com
###