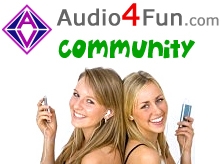 Ho Chi Minh, Vietnam, October 06, 2011 --(
PR.com
)-- Over the years audio4fun.com has managed to build a vast community for audio and video fans. This is thanks to the diversity of the contents it offers for free, such as
funny ringtones
,
funny sounds
, and other content. Different as they are, they have one thing in common: hilariousness. They can be accessed or downloaded for free at
http://www.audio4fun.com/community.htm
What attracts visitors to audio4fun.com's community is the richness of its offerings, which satisfy the different expectations of different visitors. Their span ranges from romance to humor, and include a dating site, love poems and love making tips, and of course, funny horoscopes and tarot readings.
But what makes audio4fun.com's community different from others is that it offers funny sounds and funny audio clips, created by a worldwide net of users. The sounds may be based on very common happenings in everyday life but they were recreated in a hilarious way. For example, Baby Laughing has been downloaded 170,085 times and widely circulated in the Internet. A commentator wrote about it, "My daughter burst out with laughter... and we all did too… too cute." Audio4fun.com's community also offers funny audio clips. They usually come without any words at all but the listener can imagine a whole funny story behind it with its intellectual stimulation. Among the top downloads are Wrong Restroom (69,729), Heavy Breathing & Heartbeat (8,734), and Crazy Sirens (5,726).
For music lovers, audio4fun.com's community is also a suitable place to find a lot of song remixes. They may find clips of their favorite songs and melodies, so familiar and yet so different, morphed with audio effects. Audio4fun.com offers music remixes of various kinds: pop, rock, hip-hop, classical and even Christmas music. Audio4fun.com's community also provides funny photos and flashes, which show creativity in employing the art of arranging very common things in everyday life. For each of these genres there is a top download list to help visitors make a choice.
"We all desire to be happy, and why not make one another happy then," asked Tracy Nguyen, audio4fun.com's Brand Manager, "That is the reason why audio4fun.com created this community. We want to laugh and we want to make others laugh."
Audio4fun.com not only allows users to download content but also to upload their own content. That is the reason why it is called a "community": sharing is caring. Enjoy free funny stuff and share your own contents to make others laugh at
http://www.audio4fun.com/community.htm
###