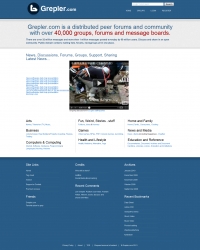 New York, NY, October 11, 2011 --(
PR.com
)-- Usenet has tried to keep itself underground and out of news. But more often it comes in the spotlight for its negative aspects by those who abuse the service.
Grepler.com is one of the only few providers fighting to provide
Usenet access for free
to people without locking user content to itself as some larger free providers do. Usenet is otherwise a premium service and almost never available for free.
"What is ignored is the fact that Usenet has been around since the dawn of Internet and has contributed uncountable positive things to the world. It is a dedicated, hype free and democratic system rather than technology that has enabled it to survive for over two decades. It [Usenet] is a silent force one which the coming generations must recognize for its true power." - Grepler.com
The creation of Linux, Free Software, Educational journals, help and support on every imaginable topic, trading and advertising leads as well as News reports broadcasted worldwide by common people during Information Blackouts have benefited the world because of Usenet. The service track record in the past 20 years has been amazing.
"Whatever you are doing today on the Internet exists on the Usenet since the beginning of time in one way or another. Usenet has facilitated and touched your life positively in some way even if you don't know it." – Grepler.com
Usenet is not owned by any one organization, it may have groups (called newsgroups) that are owned by a body or individual and as such the responsibility rests with the people themselves or with the moderators of such groups. It is truly democratic.
The Usenet content remains widely distributed by several providers and millions of people worldwide can access this information at any time. Majority of the Internet users don't know about Usenet or how to access it. With Grepler.com the accessibility is made easier with user friendly web interface.
At this time it is difficult to explain or comprehend the ecosystem of this alternate universe of the Internet. The service is still available from several providers and is being continuously improved to allow reporting of articles, spam and content. This will attract more quality interaction with this great piece of technology that might as well last our entire lifetime. Grepler.com can already see thousands of subscribers choosing to go with Usenet and do not want to go back to the regular Internet.
"I do believe Grepler.com has a long way to go to match the current Web 2.0 functionality, but it's a great start and there is bound to be bumps along the way." - J. Tubog, Grepler.com member
Grepler.com has since extended it's infrastructure to U.S.A. with plans to expand in more reasonable countries like the United Kingdom as a strategy to avoid being threatened by sudden disruption. There are no plans to stop the service and the web accessible service will be provided free of charge as per normal.
###