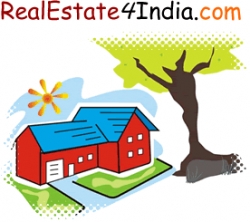 New York, NY, April 17, 2007 --(
PR.com
)-- RealEstate4India.com a new web portal has been launched by UK based company Sams Auto Trade Pvt Ltd. With focus on NRI customers, the company has set up its Web servers in a state of the art data centre in the UK, that will help deliver its webpage's much faster to NRI's, than any other website hosted and run from India. UK being a strategic country placed between Europe and North America serves as a hub for both continents and this will enhance the experience of NRI's by serving pages much quicker.
A recent analysis of their website results are provided in the attached graph.
NRI's are the primary target of RealEstate4India.com alongside a low cost to high value proposition that creates an opportunity for any Indian real estate business to advertise in the portal. With research and findings the company has created the best located advertising spots on RealEstate4India.com's homepage for builders to showcase their projects to the global community. Each of the advertisement placed on any of the "Ad Hot Spots" will receive a free micro website that will enable advertisers to describe about their business in detail. Builders or Realtors can contact them via phone to 044-42323282 or will have to visit www.realestate4india.com and select any of the vacant spot that reads, "Builders/Realtors click here to advertise now" and follow the screen instructions. The advertising module is completely automated and will enable businesses to choose what spot you want, from when, how long and gives a much flexible platform to communicate with customers.
The other flagship portals from the company that include carsalesindia.com, bikesalesindia.com and autosalesindia.com are very popular among the global NRI community. The new website will leverage this benefit of a strong NRI customer base and will thus in return benefit builders, agents and private sellers who advertise online. Products ranging anything from a corner teashop to the most fabulous resort can be advertised online at low prices.
The website also provides the opportunity to advertise properties on sale, rent, lease or for paying guests. A nominal charge of Rs 200 will be made as advertising costs and Rs 300 to advertise as Blaster Ads. Blaster Ads will appear in most of the pages within the companies group websites and provides much wider appeal to the online visitor.
RealEstate4India.com can organise photographers for Chennai and Bangalore based realtors and individuals. A maximum of 6 photographs can be uploaded for each property. It is a well-known fact that an advertisement with a photo will attract much more customers than an advertisement without a photo, and thus increases the probability for a quick sale. They also provide the services of their professional trained photographers who can take digital photos of your property and upload the photos for you. This service can be availed at a fee starting from Rs 500/- per property.
The company chairman and director Mr Samuel Jeyakumar says, "The entire design of the portal and its geographical location has been a well planned and executed task to target potential NRI customers with demand to invest in real-estate opportunities in India. The new real-estate portal realestate4india.com delivers a truly world class solution for Indian builders and dealers to be in the frontline among the first and foremost to get the maximum reach from the global NRI community."
Property advertisements can also be booked via phone or fax at the below designated numbers
Voice Booking Lines
- 044 – 4232 3282
- 044 – 4214 3282
Fax Booking Line
- 044 – 4308 4353
Email
- advertise@realestate4india.com
Address
- 373, 3rd Floor
- Kaveri Complex
- 94-104, Nungambakkam High Road
- Chennai – 600034
- Tamilnadu - India
For enquiries:
Dealers, Agents, Realtors, Individuals and businesses can call their UK or India office
Mr Sam @ 0044-7725215806 – (UK)
Ms Preena @ 0091-44-42323282
Ms Preena @ 044-42323282 – (India)
###