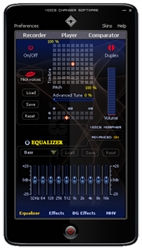 Ho Chi Minh, Vietnam, October 15, 2011 --(
PR.com
)-- Audio4fun.com is about to reach a milestone for their most popularly known product.
AV Voice Changer Software
is going to reach two million downloads on Download.com, one of the most well-known software download websites, a part of CNET. As a thanks from its developer, the voice changing program will be offered at this special discount for this weekend only.
This is the second most important event of AV Voice Changer Software product line for this year, after its first-ever Chinese language build in September. After ten years of development, the products have gone through seven versions, each of which had always had significant developments of its ancestors. The programs have also received a 4-star rating from CNET's editors in 2009 and 2010 as "unique, and worth a download" voice changing program.
AV Voice Changer software is known for its ability to change voice and sound in real-time, which has helped in creating its own position in the voice changing software market. It is useful for users in playing funny and unique jokes using their computers and the Internet. Not only does the program apply the typical human's pitch and timbre changing algorithm, it also provides users with up to thirty built-in settings to quickly change the voice, especially when users want to change their voice's gender or age. There are also other features that facilitate online voice chatting and role-playing purposes, such as background effects or non-human voice effects.
"AV Voice Changer Software is not merely a voice changing tool but can actually work as a light, yet powerful audio recording studio," said Chris Redfield, Audio4Fun Lab Manager, "The program can process and record your voice or music in real-time, from either online or offline applications, and then save those files in any audio format of your choice. It also gives advanced users more choices in choosing the quality of the recording by choosing an audio codec which affects the sound's sampling rate and bit rate." Redfield added, "This program will be a handy tool for users in producing audio clips for animations, movies, animated tutorials, website demonstrations, etc., where small file size is a prerequisite."
During this weekend, from 14 Oct to 16 Oct, AV Voice Changer Software will be available at 50% off the retail price, so customers have to act fast to get the product at this good price. See more information about the discount and also learn more about all the
voice changing products
.
###