Win the Holiday Race and Boost Your Profits
Win the holiday race this year. Effective online-marketing via digital publishing helps you gain an edge on your competition while maximizing profits, so get moving now on your company's holiday preparations: create your own digital Christmas catalog or magazine.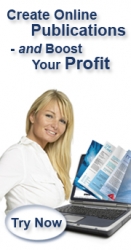 Karlslunde, Denmark, October 27, 2011 --(
PR.com
)-- Set yourself and your company apart this hectic holiday season by creating and publishing digital publications in a flip page format. You can create a vivid, colorful, virtual
Christmas magazine
, catalog, or newsletter within minutes and it will be ready for distribution immediately to an unlimited number of clients.
Many businesses have come to realize that digital publishing is the way ahead, because, let's face it, traditional glossy magazines, catalogs and printed newsletters are often seen as too time-consuming and expensive to produce and distribute. In order to compete nowadays, companies are looking to online publishing alternatives that are fast, user-friendly, and low-cost.
One such alternative is an online publishing service offered by
UniFlip
. UniFlip is a world-class service that is easy and low-cost for anyone to use. You simply upload a PDF, Word, or PowerPoint file, and the system immediately converts it into a flip page e-publication. You also have the option of dazzling your viewers while they flip through the pages by including videos using Flash software. Creating your e-publication is fast, easy, and ready for distribution immediately—no special technical or programming skills necessary.
E-publishing via UniFlip this Christmas season will be especially useful for professionals who work in advertising, marketing, publishing, web design, and media relations who really want to impress their clients and customers with their exciting, glamorous online holiday magazines.
"I started using UniFlip a couple of months ago and have found the product very user friendly and easy to use. The comments from my readers are that the magazine looks fresher and is easier to read. I would also like to add that the Customer service department have been excellent and are always happy to help and reply 24/7. I would recommend UniFlip to other companies and already have." - Chris Haill, Managing Director, D&C Media Ltd
UniFlip offers a hands-on, DIY approach to e-publishing, online as well as offline. On its website you can first run a free trial creating an e-publication, then proceed to purchase by credit card and immediately get to work on the publication. There is no sort of preapproval or waiting for a third-party supplier. For one very low price you create a customized, online catalog available in three different languages and can distribute it to an unlimited number of recipients world-wide.
All businesses this coming holiday season will be asking themselves how they plan on marketing effectively online in order to boost their profits, all while saving money on marketing and publishing. By switching over to digital publishing today, you can get ahead of the rest and win the holiday race.
###
Contact
UniFlip A/S
Kim T. Rasmussen
+4570227069
www.uniflip.com

Contact