Pitch It or Keep It: Computer Repair or Computer Buy? Consider These Tips from the Chicago Computer Club.
Your computer has given you years of service, made it through a couple of moves, and even survived rough handling from a 15 month old, but now you are thinking, "Should I upgrade or should I put it out to computer pasture?"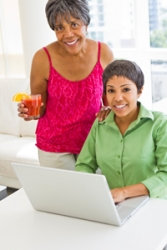 Chicago, IL, November 05, 2011 --(
PR.com
)-- Andre Mcdearmon, Lead Technician at Chicago Computer Club's Beverly store says if you consider a few commonsense guidelines, you can make the right decision on whether to pitch your computer or spend a little on repair or upgrade, and extend the life of your existing computer system.
"The number one reason people start thinking about a new computer is, the one they got now is running slow. We have people almost everyday coming into the store saying their computer is slow. You need to find out why it's slow, and then you will have a pretty good idea whether you can do a quick fix and keep your computer running or you should think about purchasing a new computer."
Basically there are three main reasons computer performance slows down, Mcdearmon says. "The first is RAM memory limits, the second is hard drive memory limits, and the third most prevalent cause is a virus – malware – spyware installed on the computer."
"The issue is of course, nobody can tell what the cause of the computer problem is before you do a diagnostic," Mcdearmon says. "So yes it's worth it to take it in to an accredited computer repair person with the proper tools to do things like a hard drive scan, a memory check, and a system scan."
He adds, "Yes while it's a little bit of cost, most places will apply that to the repair or purchase of a new computer like we do. And once you do a diagnostic you pretty much know whether it's worth upgrading, repairing, or buying a new computer."
As might be expected, cost of repair is the primary factor whether Mcdearmon recommends fixing or buying. "Good idea repairs, if you want to call them that, are typically ones that are ones that are under 175 dollars and don't require replacing major hardware." Examples of these type computer repairs include virus removal, memory upgrade, and power supply upgrades. Almost always the investment is worth it in terms of extended life and performance on your existing computer."
Mcdearmon ads that Windows 98/2000 users should almost always consider buying a new computer, and that computers over 8 years old frequently have harder-to-find and more expensive parts, and upgrading is usually recommended.
Finally, Mcdearmon says the best way to extend the life of your computer is to do simple preventative maintenance at home. "Just like any piece of machinery, keeping dust and dirt away, and providing adequate ventilation will go a long way to keeping your computer running productively. Also you need to shut down your computer once in awhile, not just put it in sleep mode. This will insure the latest Windows updates are installed on your computer."
Whether keeping it or pitching it, The Chicago Computer Club provides expert computer repair, virus removal, and upgrades, as well as new and refurbished desktops and laptops.
Please visit us at
www.CCCC.us
or call support at 773-516-5788.
###
Contact
Chicago Computer Club
John Vanover
773-516-5788
www.CCCC.us

Contact