Virtual World of Onverse – Sign Up and Get a Free Car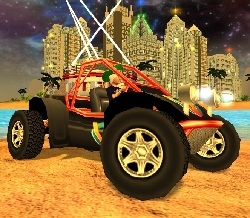 Phoenix, AZ, November 08, 2011 --(
PR.com
)-- Onverse, an online social virtual world, surprised the virtual world industry Friday when they released player-owned cars into their free-to-play 3D world. The surprise wasn't that cars were coming; it was that Onverse was giving them away for free. The free cars add to a long list of freebies the world gives out for playing, including homes, games, clothing, furniture and tools.
Members of Onverse can now travel to a new game area within Onverse called the Tangerine Coast with their cars to play a new style of game called Point Party. The Tangerine Coast is a seaside metropolis that extends out through countryside farms, old growth forests and snowcapped mountains. Cars smash through targets in an endless game of gathering points to go shopping with.
"We have the best virtual world community out there and we're here to make sure they have fun," said Steve Pierce, Founder and CEO of Onverse, when asked why the cars were free. "Marketing always has to be considered as well. When you're looking for investments in marketing, you need to be able to show you know how to get new customers."
The free cars aren't just for current members; everyone who signs up gets their own free car as well. With close to 300,000 free cars given out in one day, Onverse is now offering something that some of their competitors simply can't do. "Unless they have an open, 3D world, they can't offer this kind of experience," said Pierce. "Many are focused on small chat rooms with limited or no movement. Cars combined with our large, open world give us a stark contrast to that. I think many people are looking for something deeper and more immersive in social virtual worlds."
About Onverse
Onverse, LLC provides a merging of social networks, virtual worlds, and massively multiplayer online gaming in a 3D world focused on shopping, chatting, home building, exploration, customization, vehicles and games-within-games. Onverse is free to play and can be found at
http://www.onverse.com
.
###
Contact
Onverse, LLC
Steve Pierce
480-921-2180
http://www.onverse.com

Contact