Balfour Beatty Construction Receives Two National DBIA Project Awards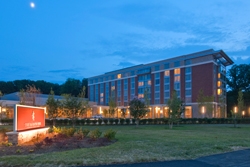 Dallas, TX, November 08, 2011 --(
PR.com
)-- Balfour Beatty Construction received two 2011 national Design-Build Institute of America (DBIA) awards, one each for the Pentagon Memorial in Arlington, Virginia and The Mason Inn Conference Center and Hotel at George Mason University in Fairfax, Virginia. The winners were announced at the Design-Build Conference and Expo in Orlando, Florida.
The Mason Inn received the DBIA National Design-Build Award in the Commercial (mixed-use) category. The $53 million project was built by University Hotel Partners, LLC, a joint venture between Balfour Beatty Construction and developer Concord Eastridge. The architect on the project was Gensler.
Completed in June 2010, The Mason Inn was a public-private partnership (P3) and included the development, design, and construction of a 30,000-square-foot conference center and 149-room hotel at George Mason University's main campus in Fairfax, Virginia.
The Pentagon Memorial received the DBIA Design-Build Excellence Award in the Civic category. The $34.7 million project was completed in August 2008.
The Pentagon Memorial, designed by architect/engineer Lee and Associates, is a park-like setting on a 1.9-acre parcel of land located near the Pentagon's west face. There are 184 memorial units, one for each victim of the terrorist attacks at the Pentagon on September 11, 2001. Each unit consists of a stainless steel bench that cantilevers over a pool of water and has five pieces of granite forming the seating surface.
"The success of a project lies in the strength of its team," said Bevan Mace, project executive for Balfour Beatty Construction. "Our company provides leadership in integration, sustainability, technology and innovation to maximize value. Both of these projects are stellar examples of how aligned teams can accomplish more together than as individual organizations."
Mace attended the 2011 DBIA awards ceremony and conference, accepting the award for The Mason Inn on behalf of all project team members. He also accepted the award for the Pentagon Memorial with Ted Lynch of Southland Industries (mechanical/plumbing subcontractor) and Jim Pattee of M.C. McDean (electrical subcontractor).
Balfour Beatty Construction would like to share its award and recognition with the following specialty consultants and contractors, who were vital members of each project team:
· The Mason Inn: Aramark Higher Education, Aramark Education Facilities, Christopher Consultants, Schnabel Engineering, Thornton Tomasetti, GHT Ltd, Oncore Construction, Infinity Systems, JCM Associates, JE Richards, and Stroud Group
· Pentagon Memorial: CMS, Syska Hennessey, Light'n Up, Alpha Corp., M.C. Dean., Southland Industries, Lorton Stone, Arban & Carosi, and Davey Tree
For more information on all winning projects, visit the 2011 Design-Build Award Winners website.
###
Contact
Balfour Beatty Construction
Connie Oliver
214-451-1066
http://www.balfourbeattyus.com
Cindy Lewis
clewis@balfourbeattyus.com
214-451-1050

Contact