360 Education Solutions Discussion-Point: Teachers Overpaid?
Is teaching really a personal self-sacrifice for the greater good of our children, or are teachers actually over-paid for their time and effort? A new study challenges common perceptions...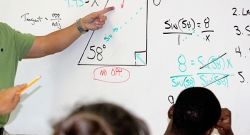 Chandler, AZ, November 11, 2011 --(
PR.com
)-- When people describe teaching as a career, one of the first things that is mentioned is usually how underpaid a teacher is. However, according to a new study from the American Enterprise Institute, a conservative think tank organization dedicated to researching private enterprise and public policy, teachers are overpaid.
Jason Richwine of the Heritage Foundation and Andrew Biggs of the American Enterprise Institute for Public Policy Research conducted the study that defies not only common knowledge, but also current research. They argue that based on factors such as: salaries, benefits, job security, and relative education level teachers are overpaid by as much as 52 percent.
This study has set off a firestorm of criticism from teachers unions, education reformers and political leaders around the country.
"If teachers are so overpaid, then why aren't more '1 percenters' banging down the doors to enter the teaching profession?" Randi Weingarten, American Federation of Teachers President, said to the The Politico. "Why do 50 percent of teachers leave the profession within three to five years, an attrition rate that costs our school districts $7 billion annually?"
In their study, Richwine and Biggs explain that on average when a person moves from a non-teaching job into a teaching position they see an 8.8 percent wage increase. On the flip side, when a teacher moves into a non-teaching position they take a 3.1 percent cut.
This begs the question as to what types of non-teaching jobs these teachers are taking. There are many factors that come into play when making that sort of career change.
First, a teacher is trained to teach, that is their experience. Chances are, if they move to a new career, they will take an initial pay cut, because they will have to be retrained and start from the beginning. But, ultimately they would most likely make higher wages as they gain more experience in their new field. Upward mobility has to be taken into account.
The same goes for benefits. Most of the time when one starts a new full-time job, they are not offered benefits initially. However, once that person gains experience and works with the company for a longer period of time, benefits are offered. If the study is basing these numbers solely off of the moment a career change takes place, then the study is seriously flawed.
Essentially the study is calling for policymakers and administrators to cut back on benefits packages to save money.
"Because of the large compensation premium that public-school teachers enjoy, teachers are unlikely to receive better offers elsewhere," the study reports. "Policymakers should evaluate teacher compensation packages in light of this fact, particularly given the serious state and local budgetary shortfalls across the country. Reducing teacher compensation, especially overly generous benefits, could help to balance budgets today and to free up resources in the future."
This is flawed logic. In a time when teachers are leaving the profession as well as losing their jobs entirely, its not wise to give people less incentive to become a teacher.
"We think teachers are paid too little for what they are tasked to do but that far too little is expected of them compared with the task at hand," Charles Barone, director of federal policy at Democrats for Education Reform, said to The Politico. "Paying them less won't help kids. Expecting more of them and paying them accordingly will, as we are seeing in Washington, one of the few [places] that showed gains on the [National Assessment of Educational Progress] scores released today."
Teaching is one of the most important and undervalued jobs in society. A teacher has the ability to inspire and shape the direction a child will take in life. If someone wants to teach, why should we then discourage these potential teachers from doing something they love?
Daniel Duerden is a writer and content editor for 360 Education Solutions.
###
Contact
360 Education Solutions, Inc.
Jon Van Dahm
480-777-5735
360-edu.com

Contact