Suspense Thriller This Way Madness Comes Receives Best New Fiction at the 2011 International Book Awards
Author, Robert Alan is pleased to announce that his book, This Way Madness Comes, received the Best New Fiction Award at the 2011 International Book Awards.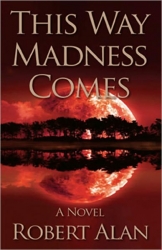 Orlando, FL, November 15, 2011 --(
PR.com
)-- Awards:
2011 International Book Awards Winner: "Best New Fiction"
2011 National Indie Excellence Award Winner: "Fiction/Adventure"
2010 International Book Awards Winner: "Thriller/Adventure"
In a remote Arctic laboratory Soviet scientist, Alexi Truskov, discovers a virtually unlimited source of power. Alexi is sure his groundbreaking discovery will bring an end to the cold war, and usher in an era of unprecedented peace and prosperity for the entire world, but his Soviet mentors don't see it that way. Now Alexi must decide between loyalty to his country and loyalty to humanity. His paradoxically cold-blooded decision ignites a deadly race across land, sea and sky for a device that could change the course of human history-or end it.
This Way Madness Comes is an action packed in-the-air and undersea suspense-thriller; full of unexpected twists and turns. An exciting adventure that confronts the madness of wars, ambition, technology run amok, and out-of-control ideologies. Russian KGB agents, an Air Force test pilot, a rogue US senator, and an undercover CIA agent are just a few of the sharply etched characters caught up in a dangerous quest to control and understand one of nature's most wonderful, and most deadly secrets. All are in a desperate race to find that secret.
Book Information:
This Way Madness Comes
Author: Robert Alan
Publisher: Cycad Press
ISBN: 978-0-9817962-4-6
Pages: 711
Published: August 2009
About The Author
Robert Alan, a native of Chicago, Illinois, spent more than twenty-six years traveling from state to state and from country to country as a member of the US Air Force. He has over 2000 flying hours as a Mission Crew Commander in E-3 AWACS aircraft. Alan holds a B.S. degree in Physics from Michigan Technological University, and an M.S. degree in Systems Management from University of Southern California. After retiring from the Air Force, Alan worked in the aerospace industry as a systems engineer for Hughes Aircraft in Saudi Arabia. Alan is an experienced SCUBA diver. He now lives with his wife along Florida's northern Gulf Coast where he works part time as a contractor for the National Oceanic and Atmospheric Administration. This Way Madness Comes is his first novel.
For more information, review copies, or interviews please contact the author at:
Robert Alan
Email: cycadpress@bellsouth.net
Website: http://cycadpress.com/
This Way Madness Comes is available for purchase online from the author's website, Amazon.com, and other online retailers.
Bookstores should contact Ingram for wholesale orders.
###
Contact
Author, Robert Alan
419-791-8004
cycadpress.com

Contact