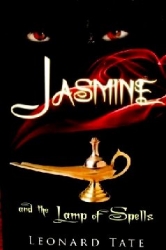 Chicago, IL, November 18, 2011 --(
PR.com
)-- Illinois Author Releases New Young Adult Fantasy Novel
Author mixes sorcery, fairies, gnomes, and witchcraft in the new young adult fantasy novel, Jasmine and the Lamps of Spells.
After three children mysteriously vanish from their village, eleven-year-old Jasmine is warned by her father to stay near home. But when she learns that she is targeted as the fourth child, she ignores his wishes and escapes to the dreaded Bantok Forest.
Lost, hungry and frightened in the dark woods, she is befriended by an elfen king, who gives her a powerful lamp to take to her witchlike friend, Maudella. But Maudella is accused of witchcraft and driven from the village. An upset Jasmine sets out to find her and in the process is given the powerful Lamp of Spells for safekeeping--a gift that changes her life forever.
Confronted by giant crows, black hounds, an evil queen and a revengeful king, Jasmine struggles to protect the lamp as she sets out on a quest to save her world from the powerful forces of evil. With a major battle for her kingdom looming, Jasmine must make the difficult choice of what to do.
Book Information:
Jasmine and the Lamp of Spells
Author: Leonard Tate
Publisher: iUniverse
ISBN: 978-4620-0001-2 Hardcover $30.95
ISBN: 978-4620-0000-5 Softcover $20.95
ISBN: 978-4620-0002-9 Ebook $9.99
Pages: 342
Published: March 2011
About The Author
Leonard Tate spent nearly thirty years in the nuclear power industry as an electrical engineer. Now retired, he is happy to focus all his time on his true passion--writing. He currently lives with his family in Matteson, Illinois. This is his first novel.
For more information, review copies, or interviews please contact the author at:
Leonard Tate
Email: lentate07@aol.com
Website: http://JasmineAndTheLamp.com
Jasmine and the Lamp of Spells is available for purchase online from the author's website, from the publisher, Amazon.com, BN.com and other online retailers.
Bookstores should contact Ingram for wholesale orders.
###