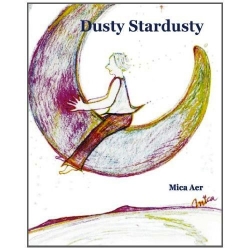 Houston, TX, December 01, 2011 --(
PR.com
)-- "Dusty Stardusty" by Mica Aer features a fantastical character on a continual quest to find what is positive and beautiful in every situations.
"Dusty Stardusty" (ISBN 061547747X), an illustrated story by Mica Aer, tells of one little girl's encounter with the magical title character, a self-described cleaner on a mission to clean up every unpleasant matter in life.
Dusty cleans with the goal of revealing what is beautiful and true in every moment, leading him to declare that "Cleaning is the coolest job in the universe." The book recounts a uniquely visionary series of interactions between Dusty and the little girl as they explore the world around them, a place where science and imagination, logic and magic and reality and dreams perfectly blend together. The book reveals to readers the importance of perceiving beauty in life and recognizing that such a pursuit drives one to do the right thing and leads to right thinking, resulting in a life truly lived.
"The story is a reminder that beauty and right thinking exist when we are able to perceive them," says Aer, "and that believing in and commanding them can fortify one's existence and reason to be alive."
The author was inspired to channel a series of beautiful mental images and memories into words, to share them with others in the form of Dusty's story. A uniquely visionary blend of fantasy, science and poetry, the book employs fantastic imagery and careful wordplay to speak to universal themes of humanity and beauty. Written to engage, entertain and inspire, the book is intended for readers of all ages.
"Dusty Stardusty" is available for sale online at Amazon.com and other channels.
###