New Online Collaborative Software Breaks Integration Barrier for Total Project Management
The developers at CollectiveSoft LLC believe that they have broken the mold with a suite of online project management tools by creating a way to integrate Microsoft Project, Google Docs, email and via API. The collaboration software, TeamWork Live, offers project managers an affordable alternative to today's popular PM tools.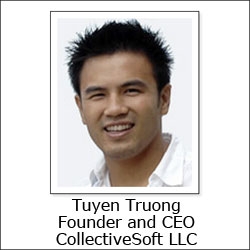 San Francisco, CA, November 24, 2011 --(
PR.com
)-- When the software development team at CollectiveSoft announced that project managers can now take advantage of the time-saving features of Google Cloud Connect from within TeamWork Live, PM's everywhere felt relief from the constant toggle between their PM tools and Google documents. When they added Microsoft Project integration, they may have set a new precedent for how
collaboration software
is supposed to work.
The product is the company's flagship project management and collaboration tool, built and launched officially in 2006. In 2011, TeamWork Live was further enhanced to allow those migrating from other platforms, such as Basecamp, a one-click import solution, reducing downtime during the switch over to the new platform.
"Our goal is to create simple tools that allow people to collaborate more effectively online," said Tuyen Truong, Founder and CEO. "We really feel our solution offers the most robust suite of collaboration and time-tracking tools available."
TeamWork Live includes many of the tools one might expect to find and several other bonus features that might surprise even the most savvy project manager. Some of these features include: advanced reporting, branding (add your logo), folders, calendar, milestones, tasks, documents, comments, time-tracking, budgeting, retainers, messages, group chat, contacts, productivity tools, permissions, and integration with email, Google Docs, Microsoft Project, and more.
The solution is currently available with a 30-day free trial or a 14-day no-credit card required trial, with plans starting as low as $39 per month with all the features mentioned above.
About CollectiveSoft LLC
CollectiveSoft LLC is a leading provider of
online project management software
. The company is based in San Francisco, CA and released TeamWork Live in June of 2006. Customers of TeamWork Live include software companies, consulting firms, web design firms, freelancers, virtual assistants, marketing agencies, manufacturing firms, non-profits, government organizations, religious organizations, and professional groups. CollectiveSoft can be reached via Twitter @collectivesoft.
###
Contact
CollectiveSoft LLC
Tuyen Truong
877-683-2696
www.teamworklive.com/

Contact