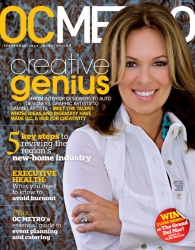 Rancho Santa Margarita, CA, November 30, 2011 --(
PR.com
)-- Whether it's helping a real housewife on a TV series or a real housewife in her neighborhood, celebrity designer Kelli Ellis focuses on beauty and budget to create dream spaces for her clients. For that, she has been named "Top Interior Designer" in Orange County by OC Metro magazine. The magazine recognized Ellis among those who have "made Orange County a hub of creativity."
Based in Orange County, Ellis can focus on one room or an entire house for her clients. With a variety of budget-conscious options for clients, her interior design business, Kelli Ellis Interiors, Inc., includes space planning, color schemes, interior architectural detailing, holiday décor, flooring, fabrics, kitchen and bath design, lighting, outdoor space, accessorizing, staging and more.
"Since I started rearranging Barbie furniture at the age of 5, I have loved everything about the art of design, so I was thrilled with this honor. As an interior designer, I work with what people already own and love, then we rearrange, edit, expand and enhance to create rooms and spaces that clients love to live in for years to come," Ellis said.
In addition, Ellis is the creator of The Kelli Kit, a design tool which helps people save money during the remodel process, and maintains a blog of recent projects and ideas on her website at http://www.kelliellis.com/blog.
"My clients inspire me every day with their ideas and personal stories, so it is a dream come true to work in the world of interior design," Ellis added. "Regardless of a person's budget and goals, we can work together to create dream homes."
About Kelli Ellis
Award-winning celebrity interior designer and design psychology expert Kelli Ellis is owner and lead designer of Kelli Ellis Interiors, Inc. Ellis has a bachelor's degree in Communications from Cal State Fullerton, a law school background and a certification from the Interior Design Institute. She has appeared on TLC's "Clean Sweep," HGTV's "Takeover My Makeover" and Bravo's "Real Housewives of Orange County," where she helped fan-favorite Jeana Keough turn her house in her dream haven. She is also spokesperson for the Society of American Florists. Kelli Ellis Interiors in managed by Kelli's husband, John Spencer Ellis. For more information, please visit
http://www.kelliellis.com
###