Live as if Everything is a Miracle; You Can Find Happiness by Embracing the Intersection of the Sweet and the Nothing
E-Play Magazine is providing you with the following tools and services: 1. self help and motivational books; 2. Self help and motivational c.d.'s (on topics, personal relationships, business relationships and family relationships); 3. Ana Weber President of E-Play Magazine is giving you the opportunity to ask your pressing questions via her Hot line support and open to speak at your next event; topics: attitude, happiness, work, time and money.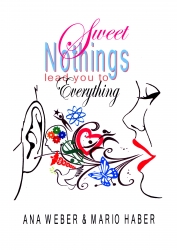 Irvine, CA, December 01, 2011 --(
PR.com
)-- "There are two ways to live;
You can live if nothing is a miracle;
You can live as if everything is a miracle"
—Albert Einstein
Feeling challenged by the stresses of today's world? Looking for guidance in finding your true compass? Wouldn't it be nice to find a roadmap through the chaos?
Good news—you're holding it! Self-help author Ana Weber joins with her life partner Mario Haber for her 10th book, Sweet Nothings: a series of reflections and meditations to steer a happy course through modern life, in 14 bite-sized chapters.
Each chapter pairs a "sweet" (something we recognize as a pleasure) with a "nothing" (often, a challenge to our thinking and living patterns), sandwiching them between a wisdom quote and reflective questions. Each chapter takes only a few minutes to read, and to put into practice.
For instance, in Chapter 10, under a quote by Dr. Martin Luther King, Jr., you'll learn to balance the "sweet" of common sense with the "nothing" of calmness and peace of mind. Other chapters balance such "sweets" and "nothings" as graciousness with freedom to cultivate, music and time, love and the present, in different formats such as checklist exercises, meditations, and the authors' own experiences.
In a world full of constant overstimulation, neither withdrawal nor blind immersion is a workable strategy. You need the ability to step back, take a breath, and absorb what's going on, and then continue from a wiser, informed perspective, is crucial. Weber and Haber can help you find that balance.
—Shel Horowitz, syndicated columnist and award-winning author of eight books
Please visit Ana's website and sign up for her free newsletter:
http://anatherelationshipexpert.com/
E-Play Magazine Corp, Irvine, CA
ISBN: 978-1-4675-0096850899
###
Contact
E-PLAY MAGAZINE CORP
Ana Weber
888-416-1088
anatherelationshipexpert.com
Ana Weber 949-422-1830

Contact