Hannah the Pet Society Gives Back to Shelter Pets This Season and Offers Free Pet/Santa Photos
Hannah the Pet Society is featuring a Giving Tree this season to help support local shelter Pets. In addition, they are offering Free Pet and Santa photos every Wednesday in December from 11:30-7.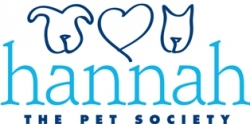 Portland, OR, December 07, 2011 --(
PR.com
)-- Hannah the Pet Society, in conjunction with Hannah's Helping Hands, a public 501(C) (3) non-profit organization, is celebrating the holidays by giving back.
Beginning the day after Thanksgiving, Hannah will begin collecting gifts for local animal shelters and rescue groups.
People who visit Hannah in the Clackamas Town Center can choose a tag hanging from a gift tree with a shelter's requested gift. The giver can then choose to purchase that gift or donate the dollar amount of that gift (or more) for the shelter to purchase that item. Visitors can also enter a drawing for a free Hartz Doggy Supply Basket and Hannah will donate $1.00 for each entry to the shelter holiday program.
In addition, Hannah is offering free Pet and Santa photos this season, every Wednesday through December 21 from 11:30-7pm. People may call 503-905-5200 for an appointment.
Hannah the Pet Society developed their Harmony Matching Program as a way to help people find their perfect Pet Match. They use a proprietary placement process created with the help of psychologists, veterinary behaviorists and personality testing experts to match each Hannah family with their perfect Pet and ensure a long, harmonious relationship.
Hannah has partnered with shelters and rescue groups to assist in finding Pets for people. Each shelter Pet goes through a Pet Aptitude Test and is tested extensively for behavior, health and personality before being placed as a Hannah Pet.
Matching people with their ideal furry friend is just the start. Hannah members receive Customized Pet Food delivered to their door each month, all-inclusive veterinary care including emergency care and prescriptions, behavior classes, boarding services and more for a low monthly Pet support fee.
For more information and to see available Pets, visit our Facebook page at www.facebook.com/thehannahsociety
###
Contact
Hannah the Pet Society
Julie Bonn Heath
503-828-4456
www.hannahsociety.com
Office: 360-816-8000

Contact