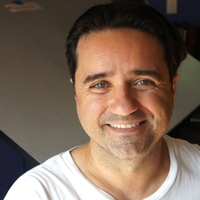 Los Angeles, CA, December 14, 2011 --(
PR.com
)--
Metamorfic Productions
launched a fiscally sponsored
IndieGoGo campaign
in October to produce Farewell My King, a short film written and directed by
Christian Gossett
. Production is slated to begin January 6, 2012.
Christian Gossett, best known for his popular graphic novel, The Red Star, is now behind the camera, bringing his strong design background to the director's chair in a personal, autobiographical film based on the events of the day his father passed away. On the morning of his father's death, in the final minutes before the body is taken away forever, an artist pays tribute by capturing the moment on paper.
Christian Gossett (Writer/Director) brings a unique blend of writing and design experience to Farewell My King. He was one of the first designers hired by Lucasfilm Licensing to retro-design the Star Wars galaxy in 1993. Gossett was only 23 years old when his radical concept drawing of a 'double-bladed lightsaber' was presented to George Lucas. George's approval memo hangs in a frame on the wall of Gossett's studio. Seven years later, this design would be made famous as Darth Maul's signature weapon in The Phantom Menace.
Bringing this same unique talent to bear when designing characters and weapons for the film and videogame industry, Gossett's character and concept designs have been sought by such visionaries as Sir Richard Taylor, Peter Jackson, and Tim Burton's new adventures of Disney's 'Alice in Wonderland'. Gossett's ongoing project, The Red Star, having successfully launched as a PS2 / PS3 game, is now in development as a feature film at Warner Brothers. The Red Star has sold over a million units worldwide, was voted among the "Top 100 graphic novels of all time" and is one of the most critically acclaimed independent comics' series of the decade.
His videogame career began at Activision on the PSX. Since then, he has designed for Sega, Namco, Microsoft and others. His most recent game work will be seen on an upcoming release of Activision's flagship franchise Call of Duty. Christian's graphic novel background informs his approach to filmmaking in every way, resulting in a distinctly original voice, "Having worked on so many different aspects of a motion picture, I'm insanely happy to be directing. Motion pictures are the language of our imagination. They mimic the way we dream or the momentary escape from the waking world given to us by the mercy of a daydream."
Written and Directed by Christian Gossett and Produced by Jhennifer Webberley, Farewell My King follows Peter, an artist grieving his father's passing. As he tries to comfort his brother, Adam, and mother, Anna, he must find a way through his own sense of loss. With Hospice on the way to collect the body, Peter realizes this is the last twenty minutes he will ever have with his father. Desperate to do something with the agony of this moment, Peter looks into his father's face...and sees him in a way he never has before – at peace. In an attempt to immortalize this time and his father, Peter is suddenly compelled to draw a portrait. As he sketches, he is swept into one of his fondest childhood memories. The pure happiness of the moment allows him to focus his talent and complete the drawing before his father is taken away forever.
Portraying the lead role of Peter is Paul Diaz (Friends With Benefits) along with Nadia (I Love John) playing the role of his mother. Supporting roles will be played by Eddie Kehler and Estrella Tamez.
Christian's brother made hours of recordings of conversations with their father shortly before he died. Excerpts from these recordings will be used as real audio in the fictionalized version of the story of his father's death. Gossett states, "At some point in our lives we realize the uniqueness of our parents. Most of the time this realization happens too late, but not for me. My father was so unique and so loving that this was not the tragedy I faced when he died."
The teaser trailer Gossett made for fundraising has already generated touching responses from people wanting to contribute in honor of their own lost loved ones. The filmmakers will be creating an 'in memoriam' section on their website and completed DVD with pictures of those lost. "I'm hopeful that the film will touch people who have lost someone," expresses Gossett, "Peter is able to find a ray of hope, a closure, a way to immortalize his father's memory through drawing, creating something indelible. This tribute to my father will hopefully do that for me and my family, but also serve as an experience for others who have lost someone close to them, to relate to this feeling of letting go."
Farewell My King will be shot on 35mm film, an anomaly in the low-budget digital world. Award-winning cinematographer Michael Fimognari will shoot and says of the choice to shoot film, "It came as no surprise to me that Christian's vision for the aesthetic was that it be shot in the anamorphic format on film. My love of cinematography comes from the poetic elegance of shooting film and I believe Farewell My King deserves the artful honesty that comes from film."
Michael's "gorgeously textured" (NPR on Beautiful Boy) and "imaginative" cinematography (The Hollywood Reporter on DARE) was brought to Gossett's attention by producer and long-time collaborator, Jhennifer Webberley, "Michael Fimognari approaches his craft from a story-first perspective that informs every shadow, color and movement within and of the frame, a quality that led Variety to name him one of 2011's "talented artisans rising up the ranks. I knew he would be the perfect collaborator for Christian's visual storytelling sensibility."
Michael Fimognari is best known for his dramatic lighting and lensing of feature films, notably Shawn Ku's unconventional love story, Beautiful Boy, which won the International Critics Prize at the 2010 Toronto Film Festival; and Arvin Chen's jazz and French New Wave-inspired Au Revoir Taipei, produced by Wim Wenders and In-Ah Lee, which won Best Asian Film at the 2010 Berlin Film Festival. On his collaboration with Gossett, he says, "It is so rare that I have the opportunity to be a part of a personal passion story that is lead by a visionary like Christian. He is truly an artist in every way and this story comes from the depth of his life and creativity."
Farewell My King is a low-budget film intended for the festival circuit and limited release for Academy Award short form submission. "Making Farewell My King independently with a core group of collaborative filmmakers allows us the freedom to follow Christian Gossett's unique vision and tackle a very personal moment," states producer Jhennifer Webberley. "Christian looks deeply into his material and his preparation is truly comprehensive, resulting in a powerful visual design that will make a very simple moment riveting. He is building a case as a writer/director to watch." Webberley has previously collaborated with Gossett on the graphic novel, The Red Star: Sword of Lies, and she is the Producer in his design studio - Christian Gossett Studios. Webberley's independent production company, Metamorfic Productions LLC, is committed to greenlighting up-and-coming writers and directors with diverse backgrounds, like Gossett.
Jhennifer Webberley (Producer), Jen Prince (Co-Producer), and Michael Fimognari (Director of Photography) are alum of the University of Southern California (USC) School of Cinematic Arts, where they first worked together and have continued to support each other's projects whenever possible. Their first collaboration was on Jen Prince's award-winning thesis film, winded. Jen Prince went on to form Open Plan Films and produced the festival favorite, Eve of Understanding.
In addition to the attached materials, the
indieGoGo site
is a great online source for information about the filmmakers and cast, the story, and press. You can also view the fundraising teaser
www.metamorfic.com
Read more and see artwork of Christian Gossett:
http://www.christiangossett.com
If you would like to speak with Christian Gossett(writer/director) or Jhennifer Webberley (producer) please contact Jen Prince at 818 209 7750 or fmk@metamorfic.com.
###