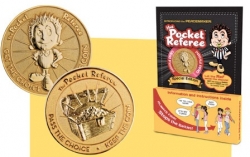 New York, NY, December 15, 2011 --(
PR.com
)-- Looking for unique and interesting gifts for your friends and family this year? There are many fun, educational toys and family products available that may not be well advertised.
A great way to find unique family products is to reference parenting and product websites such as; The National Parenting Center, Great Dad, and Dr. Toy, who do the screening and product reviews for you. There's one very unique toy reviewed and approved by all these groups that is the ideal, budget friendly gift for all families with young kids. It's called
The Pocket Referee
and is sold on
Amazon.com
for less than $10.
The Pocket Referee is the 6 time award winning, take everywhere toy that teaches kids to get along better and takes parents away from the job of being their kids' personal referee. It's the toy that empowers kids to make choices on their own and get their way when a conflict arises with friends and siblings. Parents see it as an educational toy and kids see it as their ticket to getting what they want.
The Pocket Referee has been reviewed and tested by many families who have this to say about it:
"I really don't think I have heard any arguing over who wants to do what at all since I gave them The Pocket Referee." -Rachel from Oklahoma
"The Pocket Referee is an amazing new tool for parents. It allows your children to solve their own fights with out you having to step in." -Erin from Utah
"The Pocket Referee puts a little bit of magic, confidence and control into the hands of my children. Not only is it fun but it's also teaching them an important life lesson!" -Bridget from Idaho
Wendy Young Child and Family Therapist says, "It is one of the smallest, quietest and least invasive products around that helps kids deal with daily conflict and personal choice-making. The best thing about The Pocket Referee? It keeps parents from feeling compelled to intervene in every sibling situation. When we are quick to step in to solve these daily dilemmas for our little darlings, something is lost in the translation. We rob our children of the chance to think critically, to problem-solve, to negotiate, and to develop the ability to compromise and come up with a win-win situation."
The Pocket Referee, is a dad invented product manufactured by Vraney, Inc.
Vraney, Inc. is a family run company with the goal of bringing other families creative conflict solutions with the Pocket Referee.
###