Three Year Battle with Lice Ends at Minnesota Lice Lady Salon
Minnesota Lice Lady opens salon in Edina to serve Greater Metro area.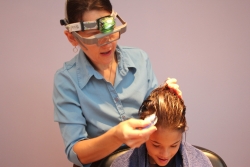 Edina, MN, December 19, 2011 --(
PR.com
)-- Liz Ferron finally found peace of mind after visiting the Minnesota Lice Lady's newly opened salon in Edina, Minn.
Ferron, a social worker from Minnetonka, and her 10-year-old daughter, Angela, had been battling lice off and on for three long years. "It's very time consuming and stressful," Ferron stated.
Ferron was relieved that someone else was handling her daughter's latest lice infestation. When she walked out of the Minnesota Lice Lady's salon after the follow-up treatment, she knew that her long ordeal with lice was over; her daughter's head was clean and so was hers.
One of the things Ferron appreciates most about Minnesota Lice Lady Gonne Asser (it's pronounced Honnah and reflects her Dutch ancestry) is that she not only eradicates lice in one treatment, but also is well educated about lice, and willingly shares her knowledge of the bugs. "I really like her thoroughness," Ferron said. The Minnesota Lice Lady never asks clients to comb out at home and guarantees her service for 30 days.
"We are the experts and take on full responsibility to eradicate the infestation," said Asser, a St. Paul resident.
Asser wants parents to know they're not in this fight alone.
There is a way to combat lice that doesn't involve the use of harmful and dangerous chemicals.
There is a method out there that guarantees success. It's the one the Minnesota Lice Lady uses. With the Shepherd Method of Strand by Strand Lice Removal, each head is first sprayed with enzymes and then combed out thoroughly with a professional grade nit comb. A thorough nitpicking comes next as each strand of hair is examined one by one. Then, just to be sure the nits are gone, the Minnesota Lice Lady does a second visual check and a final comb-out. The four-step process with built-in safety nets typically takes one and a half hours for boys and two and half for girls, depending on how much hair a person has and the severity of the infestation. Within a week, clients return for a follow-up visit.
The Minnesota Lice Lady is so confident in her work that she offers a 30-day guarantee. If you get lice again within a month, treatment is free. "I couldn't sleep if you had nits or lice on your head after seeing us," said Asser, who treats clients throughout the Greater Metro area.
The Minnesota Lice Lady also works with clients to identify where the lice originated, and encourages friends, classmates, relatives and others to get their heads checked and treated if they have lice.
But don't worry. She won't be pushing any of her services on you or trying to get you to buy an armful of products that you don't really need. Asser's goal is to educate and to help parents -- not profit off their ignorance.
Her treatments are as much about helping families combat the myths around lice as they are about eradicating the lice itself.
"Our mission is to take responsibility for people's lice infestations so that people can get on with their lives," said Asser.
"After you come see us, you'll be done with lice for good."
About The Minnesota Lice Lady
Let the Minnesota Lice Lady, Gonne Asser (it's pronounced Honnah and reflects her Dutch ancestry), take those lousy worries away. She's glad to help. In fact, she's been aiding moms in the fight against lice for over eight years. After a friend helped her treat her children, Asser decided to pay it forward and help others. A year ago, the St. Paul resident launched into nitpicking full time to help as many families as she can. She continues to incorporate research and cutting-edge techniques. The Minnesota Lice Lady is the only company in Minnesota using the Shepherd Method of Strand by Strand Lice Removal, the most effective and thorough lice removal process available. The Minnesota Lice Lady has recently opened a salon at 3940 Sunnyside Road in Edina, and offers in-home visits throughout the Greater Metro Area. To schedule an appointment or get more information on natural treatment options, call 612-564-0678, email mnlicelady@gmail.com or browse mnlicelady.com.
Sidebars
Lice Facts From The Minnesota Lice Lady
• Head lice are completely dependent upon our heads in order to live. If they don't get a blood meal within 24 hours (less for young lice), they will die.
• Lice do not live in the environment. In fact, they don't want to leave your head. "It's the perfect nest," stated Asser that provides the right living conditions for lice. Once on your head, their legs lock onto a strand of hair. This makes it very unlikely that the lice will fall off in your house. "The bugs are not on the couch or the carpet or the American Girl dolls," said Asser.
• Yes, you can have lice and not itch. Half of the people affected by lice show no outward signs, Asser noted.
• To eliminate lice, it is necessary to focus on the head, not on your environment.
• Most moms reach for the chemicals when they realize they need to treat a lice outbreak. "We're so overwhelmed," Asser observed. But what most moms don't realize is that these chemicals can have many dangerous side effects, such as liver failure. Plus, lice are becoming resistant to these pesticides. Products such as Rid and Nix are only 44 to 46% effective. Even the home-remedies such as olive oil are only 60 to 70% effective.
What Makes The Minnesota Lice Lady Different?
• 30-day guarantee -- The Minnesota Lice Lady promises that if you get lice again within 30 days, she'll provide treatment for free.
• Shepherd Strand-by-Strand approach -- The Minnesota Lice Lady uses the most effective and thorough lice removal process available.
• Relaxing salon environment -- Once you step into the salon in Edina, you'll immediately breath easier. Tomorrow, you can forget you ever had lice.
• No-push products policy -- The Minnesota Lice Lady doesn't want to sell you a bunch of products you don't need, such as a specific house cleaner or spray that is guaranteed to keep lice away.
Cutlines
The Minnesota Lice Lady Gonne Asser performs a free follow-up on Angela Ferron, 10, of Minnetonka as her mother, Liz, looks on. Liz tried a variety of methods over three long years to eradicate the lice on both of their heads, but the problem wasn't solved until they visited the Minnesota Lice Lady's salon in Edina. It isn't uncommon for families to struggle with lice as head lice knows no social or class boundaries. It's a common misperception to link head lice with poor hygiene, pointed out Asser. Lice affects everyone.
Minnesota Lice Lady Gonne Asser carefully combs through 10-year-old Angela Ferron's hair using the Shepherd Method of Strand by Strand Lice Removal. "Our mission is to take responsibility for people's lice infestations so that people can get on with their lives," said Asser. "After you come see us, you'll be done with lice for good."
###
Contact
Minnesota Lice Lady
Gonne Asser
612-564-0678
www.mnlicelady.com

Contact