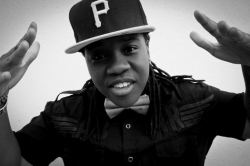 Reno, NV, December 21, 2011 --(
PR.com
)-- Releasing one album over the course of a year for most bands is quite the feat. Local singer/songwriter Knowledge and band Knowledge Lives Forever managed to professionally record and release three complete albums in just over a year's time. In celebration of this they will perform The Trilogy live to commemorate this unique accomplishment.
Knowledge, often describing herself as a writer first and a musician second, started writing songs at the age of 12 and making Hip Hop music at the age of 16. With a household filled with RnB, Gospel, and Soul music, and the Rock and Folk music she picked up while attending private school, Knowledge developed a very unique ear.
Finding it hard to confine to one particular genre, Knowledge determined that a multiple album release would be conducive to her already out of the box approach and would be suiting given the bands ability to seamlessly blend hip hop, rock, soul, funk, electronic, and occasionally jazz creating a sound that is all their own. The goal of one year was determined by Knowledge with conviction that it could be done and with intent of setting a new local record. Recording of The Trilogy began in September of 2010 and the collection will be complete with the release of the final album, Reborn, at The Trilogy Album Release Show. Album one, Hate Me Now (August 2011), and album two, Don't Kill the Messenger (September 2011), are now available for online purchase via iTunes and Amazon.
The Trilogy Album Release Show will be held at The Underground on February 3rd, 2012 at 8pm. It will feature performances by Naked For Safety, Status-Flo featuring Locus, Yosh, and Tree Woods, along with special guest appearances from an array of noteworthy local musicians. The show will make use of the music within the collection in telling the story of how The Trilogy grew into fruition and is stated to be more of an experience than a concert. Tickets can be purchased online with credit cards at www.renounderground.com/tickets, locally at Java Jungle, Beach Hut Deli, and Recycled Records and at the door. The $7 advance purchase tickets and the $10 at the door tickets both come with a complementary copy of the Reborn album.
###