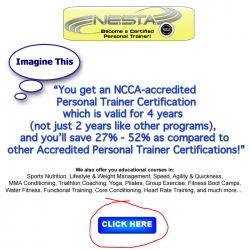 Rancho Santa Margarita, CA, December 30, 2011 --(
PR.com
)-- To supplement its highly regarded online personal training and certification programs, the National Exercise & Sports Trainers Association (NESTA) is now offering local fitness workshops in a variety of locations across the country.
The two-day intensive personal training workshops, delivered by Training Made Fun, provide certification as well as information and education on anatomy, exercise physiology, kinesiology, biomechanics, program design, hands-on instruction in exercise application, use of equipment, progressing and regressing exercises, and more.
"For anyone interested in hands-on training to complement their online training, these two-day workshops are the perfect solution," said John Spencer Ellis, founder of NESTA and John Spencer Ellis Enterprises, a leading national fitness and personal development solutions company. "These in-person, hands-on workshops are action- and information-packed, and they can help you become an even better personal trainer."
Upcoming workshops in 2012 will be offered in Arizona, California, Colorado, Florida, Hawaii, Kansas, Missouri, Nevada, New Jersey, New York, Oregon, Texas, Virginia and Washington. In addition, the NESTA Personal Fitness Trainer Certification Exam is offered at the end of each workshop weekend as an option; the workshops can also simply be a source of continuing education credits or additional learning for trainers. Payment plans for the workshops are also available.
"We know that everyone learns differently, so while online training is convenient and effective, we are also pleased to offer an in-person workshop option for personal trainers interested in that growth opportunity," added Ellis.
Training Made Fun is a sports and fitness training company that focuses on the education and professional development of personal trainers, instructors and coaches.
About NESTA
Since 1992, the National Exercise & Sports Trainers Association (NESTA) has been a leader in innovative solutions for fitness, nutrition and wellness professionals, as well as club owners. Founded by John Spencer Ellis, NESTA now has more than 55,000 members in 55 countries, and it is one of the largest fitness associations in the world, as well as the fastest growing association of its kind in the United States. For more information on NESTA or the live personal training workshops, please visit
http://www.nestacertified.com/live-workshops/
###