John Spencer Ellis Online Affiliate Program Offers New Income Opportunity for Personal Trainers, Fitness Pros and Fitness Enthusiasts
The John Spencer Ellis fitness affiliate program gives personal trainers, fitness pros and enthusiasts alike the chance to make extra money. Available online at http://johnspencerellis.com/affiliates/, the program provides passive income opportunities through promoting a variety of fitness products, workout programs and services.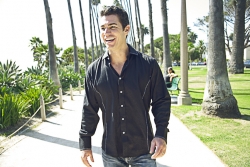 Rancho Santa Margarita, CA, December 25, 2011 --(
PR.com
)-- Did you ever think that posting about something you already love on Facebook or Twitter could make you some extra money? The John Spencer Ellis affiliate program, available on his website at http://johnspencerellis.com/affiliates/, offers just that opportunity. Fitness pros and enthusiasts can sign up for the program, post about their favorite products and programs, and then enjoy the benefits of earning extra passive income.
The process is simple for fitness fans interested in making more money by selling services and products they believe in: sign up for a PayPal account, register to be a John Spencer Ellis affiliate online, register for the National Exercise & Sports Trainers (NESTA), International Triathlon Coaching Association (ITCA) and Mixed Martial Arts Conditioning Association (MMACA) affiliate program, and then start posting about any favorite products on Facebook, Twitter, websites, email or blogs and enjoy the extra income from any referred products sold.
"When you talk about fitness programs and products that you enjoy, you will be able to inspire and help others while making extra income for yourself," said Ellis, founder of John Spencer Ellis Enterprises, a personal development and fitness solutions company. "This simple affiliate program makes it easier to share your favorite fitness solutions with others and to reap the benefits of a healthy lifestyle."
The registration process is free and takes about three minutes; all of the sign-up links are available online at http://johnspencerellis.com/affiliates/. Affiliates can post about John Spencer Ellis fitness and personal development programs and products as much or as little as they like. Payments for products sold are made monthly.
All of Ellis' programs and products fall within the fitness, mixed martial arts, personal development, coaching and wellness industries.
About John Spencer Ellis Enterprises and the Affiliate Program
John Spencer Ellis Enterprises is a solutions provider for fitness and coaching professionals around the world, providing education, turn-key business programs, coaching and resources for new and advanced fitness and coaching professionals. For more information about John Spencer Ellis Enterprises or for more information on becoming a John Spencer Ellis affiliate program member, please visit
http://johnspencerellis.com/affiliates/
###
Contact
John Spencer Ellis
949-589-9166
http://www.johnspencerellis.com

Contact