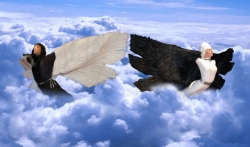 New York, NY, December 29, 2011 --(
PR.com
)-- Circassian Circle
www.circassiancircle.com
, a new and original folk dance troupe from the Caucasus region of Eurasia, will take part in the 55th anniversary conference of The Association of Performing Arts Presenters (APAP/NYC). Performances are scheduled for Saturday, January 7th at 4:00pm and Sunday, January 8th at 5:40pm. Each performance will be 30 minutes in length and take place in the Regent Parlor located on the second floor of the New York Hilton Hotel, 1335 Avenue of the Americas. Admission is free and tickets are not required.
Circassian Circle is comprised of twenty dancers adorned in costumes consistent with the Caucuses cultural, musical and linguistic landscapes. Aided by lit drums and ancient poetic rhythms, the show will allow many audiences to discover a brand new world, one that merges classical and contemporary choreography while connecting the past, the present, and the future.
For Circassian Circle Founder Robert Saralp, the show reflects his love of movement, shape and composition as conveyers of deep emotion. Saralp came up with the idea for Circassian Circle during his Broadway run as the lead clown in Slava's Snow Show in 2008. Inspired by Italian Comedia Del Art, he took the carnival and spiritual elements of that genre and incorporated them into the performance. Though he values the authenticity and originality of his culture, Saralp wants Circassian Circle to resonate across all societies. It is his commitment for truth through artistic education and awareness that attracted the show's main producers – Adyghe and Unicycle Productions.
Adyghe, a Circassian culture fund, and Unicycle Productions are responsible for respectively bringing and organizing Circassian Circle for APAP/NYC. Adyghe gets its name from a North Caucasian ethnic group displaced during the Russian conquest of the Caucasus in the 19th century. According to the Unrepresented Nations and Peoples Organization, upwards of 3.7 million native Circassian speakers currently reside in the Republic of Turkey, the Russian Federation, the Levant, Europe and the United States; the majority of whom practice Sunni Islam. Adyghe and Unicycle Productions believe that Circassian Circle is not only a worthy representation of the native culture and community but that it can be used to creatively introduce a new segment of society to the rest of the world.
Circassian Circle is a new and original folk performance that showcases ethnic choreography and music to modern audiences. Through dance, Circassian Circle provides a modest look at a culture that remains dedicated to preserving its indigenous roots in a globalized world.
Adyghe
is a Circassian culture fund named after Yuri Hamzatovich Kalmykov located in Moscow, Russia. The objectives of Adyghe are the promotion and development of the Circassian way of life amid Russian youth as well as the study and preservation of ancestral heritage in their historic homeland, Moscow and abroad. The fund is aimed at developing science, art, culture, education, creativity and peacemaking programs. Visit www.adygi.msk.ru for more information.
###
For further information please contact:
Irina Shmeleva, is@via3pr.com
201.321.3372 cell
212.802.1446 office