Hollywood Actress Linda Blair & Helen Darras Seek Charitable Donations for Linda Blair WorldHeart Foundation
Longtime friends Helen Darras and Linda Blair at the Linda Blair WorldHeart Foundation Facility, in 2011. Please donate to the Linda Blair WorldHeart Foundation for Animal and Human Welfare.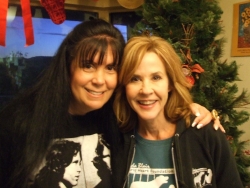 Los Angeles, CA, December 30, 2011 --(
PR.com
)-- The holiday season is a time for reflection and giving thanks. As 2011 winds down, thoughts turn towards those unable to care/provide for themselves. Everyone needs to "have a heart and do your part" by stepping up to the plate by giving help and services where needed.
The Linda Blair WorldHeart Foundation is a non-profit, 501c3 tax-deductible organization. They are a national animal welfare group dedicated to rescuing and rehabilitating abused, neglected and abandoned dogs in the Los Angeles area and beyond. They are asking for your support to continue the work that they do at the Foundation by asking everyone to make charitable holiday donations for this worthy cause.
Donations can be made in many forms: blankets, animal food, animal toys, cleaning supplies, dog treats. Gift cards that you may have received this holiday season and wish to turn over are a very welcomed donation. Cash donations to help fund the foundation to help maintain dog housing and food is very desperately needed and appreciated.
To learn more about what you can do to help Linda Blair, Helen Darras, Anthony Tedesco and the much needed, hard working Linda Blair WorldHeart Foundation Staff continue to do their work, please copy and paste this link to your web browser and visit the website: http://www.LindaBlairWorldHeart.org
Cash donations can be made safely and securely through PayPal or by mailing your donation. Kindly click on the following link to directly access Linda's Rescue Foundation PayPal account and/or the Foundation's mailing address:
www.lindablairworldheart.org/?page_id=120
Linda Blair has unselfishly dedicated decades of her life towards animal rescue efforts. Linda was a proud recipient of PETA's 1999 Humanitarian Award and the Animal Rights 2001 Celebrity Advocate of the Year Award. Please help Linda and her staff to continue leaving a legacy of caring for future generations by donating this season. Happy holidays to everyone. On behalf of Linda Blair, thanks to all of you for your generous financial and caring support.
###
Contact
Incorporate That, Incoporated
Helen Darras
(631) 371-6190
http://www.imdb.com/name/nm4446519/
www.lindablairworldheart.org/?page_id=120
www.lindablairworldheart.org

Contact