Medimix Europe Moves to New Offices in Aldersgate, London
Medimix Europe will see many changes in 2012: new staff members, new offices and new energy. It is poised to utilize latest advances in online technologies and social media to meet challenges in changing markets for the healthcare industries.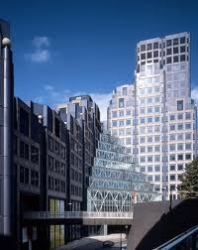 London, United Kingdom, December 31, 2011 --(
PR.com
)-- As the New Year begins, Medimix Europe will see many changes: new staff members and new offices bringing new energy. The world of digital technology is producing constant changes in healthcare market research, and Medimix Europe is poised to utilize the latest advances in online technologies and social media to meet new challenges.
Medimix Europe, a division of Medimix International, is responsible for providing advanced marketing research solutions specifically for healthcare in Europe, the Middle East and Africa, and is headquartered in London. It will ring in the New Year from new offices in Aldersgate, close to the Museum of London, St. Paul's Cathedral and to the Barbican and St. Paul's Underground stations.
Address: 200 Aldersgate, London, EC1A 4HD UK
Telephone: +44 (0) 20 3440 4175
As Henry Gazay, Medimix International CEO, remarked, "Medimix has always welcomed change which is a good catalyst for revisiting corporate strategies, looking at new opportunities, and finding fresh ways to respond to meet our client's needs. Our new office is part of that change and well located in a dynamic central part of London."
He noted further that, "The healthcare industry is also changing rapidly, and we have seen a new emphasis in the healthcare industry to move into new therapeutic areas and technologies and treat diseases prevalent in the emerging markets. This is where our expertise comes in, providing our clients with a deeper understanding of their markets, as well as background intelligence on government agencies, academic institutions, patient groups, NGO's and communities. "
About Medimix International
Medimix International provides "e-merging insights for tomorrow's global healthcare."TM
Medimix's global online community provides direct access to almost one million physicians and healthcare professionals from around the world, making it one of the largest panels in the industry.
Medimix has various offices across the globe, including Miami, FL and Florham Park, NJ (USA); London (UK); Mexico City (Mexico), São Paolo (Brazil); Hong Kong, Beijing, and Shanghai (China), and Bacolod, Philippines.
Medimix has invested heavily in applying research services in the fast growing on-line arena and for the social web and recently introduced: ScanbuzzTM a social media monitoring platform for life sciences industries, currently tracking top 200 pharmaceutical products and 100 corporate brands in a variety of therapeutic areas. Clients may monitor their own choice of brands, disease or conditions, or any concept they are interested.
Medimix has also partnered with VoxMed TM a worldwide online community for the medical profession where physicians and healthcare professionals may discuss clinical symptoms, treatments, and prevention.
Medimix specializes in global research. Learn more at http://www.medimix.net
Contact for this press release:
Kathryn McAdam
Email: communications@medimix.net
35 NE 40th St., Suite 200 Miami, Fl. 33137
###
Contact
Medimix International
Kathryn McAdam
305-573-5233
www.medimix.net

Contact