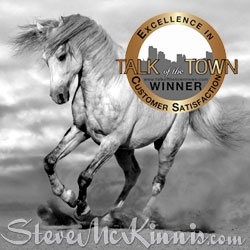 San Diego, CA, January 04, 2012 --(
PR.com
)-- Stephen McKinnis of
stevemckinnis.com
is a third year recipient of the
Talk of the Town
Award for Customer Satisfaction for Web Design in California for 2012. McKinnis also received this award in 2010 and 2011. Steve's specialty is custom designed sites but he also fixes and corrects poorly coded or improperly coded web sites. Steve's emphasis is on Cross Platform Verification and stresses the importance of making sure your web site works on every platform, be it a cell phone or iPad. "A site has to be graphically dynamic to hold someone's interest. You only have a few seconds and if a site is poorly constructed or doesn't grab your attention immediately; it will cost you business." A graduate of Hastings College McKinnis currently resides in San Diego, CA but works all over the United States and has created web sites for companies and individuals in Nebraska to California to New York City.
Celebration Media U.S. and Talk of the Town News established CMUS Power Ratings™ with industry-leading, sample-based methodology to track customer satisfaction. We gather information from a combination of highly respected, no-cost online user-review websites, blogs, social networks and business-rating services to measure customer satisfaction.
Star ratings from the websites, the number of user reviews, scores from other business-rating services and accolades found through our research establish the basis for our ratings. This annual audit provides data to determine a mathematical formula, or matrix, to evaluate and rate its findings. Based on the results of this formula we assign our own rating to act as a representation of the data we have accrued.
By combining all online information into one score, consumers and businesses receive a fairer overview of customer feedback without having to spend hours locating all the information. Talk of the Town News takes the worry and work out of finding the top consumer-rated businesses across the country.
###