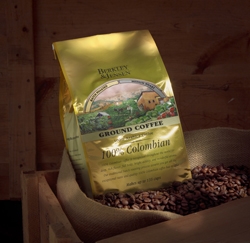 Telford, PA, January 07, 2012 --(
PR.com
)-- There's a new packaging format for ground coffee that's hitting store shelves. In a move designed to deliver a better product to members while enhancing the sustainability and cost-effectiveness of packaging, BJ's Wholesale Club is replacing its private label Berkley & Jensen 100% Colombian ground coffee can with the new, flexible Fres Bag™.
Designed by coffee packaging innovator Fres-co, the Fres Bag will help BJ's significantly reduce the cost of materials while the bag's industry-leading one-way degassing valve will deliver a fresher, more flavorful brew.
"All of the buyers here at BJ's strive to deliver great quality products at tremendous value to our members," explains John Gorham, coffee buyer for BJ's. "This new packaging format will enhance the product presentation at Club level while preserving the quality and freshness of the coffee."
"Compared to cans, and even other bags, our Fres Bag has a lot of benefits," explains Chris Burger, Coffee Market Manager at Fres-co. "Our original one-way degassing valve better preserves the coffee's flavor while the Corner Seal® technology gives the package a firm, compact feel that ships efficiently and looks great on store shelves. Combined with a wide-mouth opening and less expensive materials, Fres Bag offers major gains as a can replacement."
Burger also believes that the package will help enhance the product's perception – giving it a more premium, high quality appearance. "We've found that there is a negative public connotation of canned products, especially in terms of freshness. With research showing that package appearance is increasingly affecting the purchasing decision, we believe the high-definition graphics and gourmet perception of the Fres Bag offers a tremendous visual presence that will really jump off the shelves – especially in a club store environment," explains Burger. "BJ's coffee has a very rich, gourmet taste and I think we've been able to produce a package that matches that same level of quality."
For more information about this new package, call 215-721-4600.
###
Contact Information:
Chris Burger
Fres-co System USA, Inc.
3005 State Road
Telford, PA 18969-1021
(215) 721-4600 Ext. 2129
cburger@fresco.com
About Fres-co:
Founded in 1978, Fres-co System USA, Inc. is based in Telford, Pennsylvania on a 32-acre campus that contains our 300,000 square foot packaging manufacturing facility.
As a system supplier, Fres-co focuses on sustainable and customized flexible packaging solutions and packaging innovations for dry and liquid applications in select market segments: Coffee, Food & Beverage, Specialty and Pet Food. Its core competencies in regard to flexible packaging processes and technology include: High-acid and low-acid aseptic, vacuum, gas flush, hot fill, and retort. Fres-co manufactures flexible, printed, laminated, high-barrier packaging materials, valves, and leading edge packaging equipment. Its system strategy provides customers with seamless integration as well as comprehensive service and support.