Balfour Beatty Construction Named One of FORTUNE's Best Employers for 2012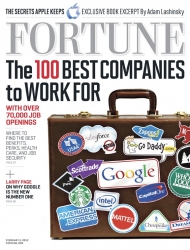 Dallas, TX, January 20, 2012 --(
PR.com
)-- For the third consecutive year, FORTUNE magazine recognizes Balfour Beatty Construction for its commitment to employees by placing the company on its prestigious "100 Best Companies to Work For®" list. The company ranks #44 in 2012, following a #40 ranking in 2011, and #76 in 2010.
"While I'm really proud of the results of this survey," said Robert Van Cleave, chairman and CEO for Balfour Beatty Construction. "I'm even more proud about what it says about the quality of people we have here. We are big believers in the concept of a 'living brand'. Our employees are the ones who make it a fun place to work, and also earn the repeat trust of our clients and key partners, time and again."
To pick the 100 Best Companies to Work For, FORTUNE partners with the Great Place to Work Institute to conduct the most extensive employee survey in corporate America. This year, 280 firms and more than 246,000 employees at those companies responded to a survey created by the institute, a global research and consulting firm operating in 45 countries around the world. Two-thirds of a company's score is based on the results of the institute's Trust Index survey, which is sent to a random sample of employees from each company. The survey asks questions related to their attitudes about management's credibility, job satisfaction, and camaraderie. The other third is based on responses to the institute's Culture Audit, which includes detailed questions about pay and benefit programs and a series of open-ended questions about hiring practices, methods of internal communication, training, recognition programs, and diversity efforts. Any company that is at least five years old and has more than 1,000 U.S. employees is eligible.
To see what Balfour Beatty Construction employees have to say about their company, visit www.balfourbeattyus.com.
###
Contact
Balfour Beatty Construction
Connie Oliver
214-451-1066
http://www.balfourbeattyus.com
Cindy Lewis
clewis@balfourbeattyus.com
214-451-1050

Contact