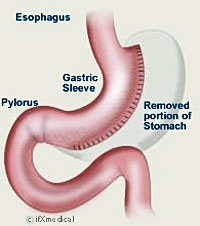 New York, NY, January 25, 2012 --(
PR.com
)-- On January 22, 2012, at the 3rd Annual Apollo Bariatric Surgery Conference (ABSCON 2012) in Chennai, India, the first ever incision-free endoluminal bariatric surgery procedure was performed in South Asia. Incidentally, this is the first ever known endoluminal revision of a prior sleeve gastrectomy performed to their knowledge in the world. The operation was performed by New York bariatric surgeon, Dr. Elliot Goodman, with the able assistance of Dr. Rajkumar Palaniappan of the bariatric surgery service of Apollo Hospital in Chennai. The operation was shown via video-link to 80 surgeons attending the ABSCON 2012 conference at the Hyatt Regency Hotel in Chennai. It was performed using the Overstitch platform, manufactured by Apollo Endosurgery® Inc. of Austin, Texas.
The patient was a 27-year-old gentleman who had previously undergone a sleeve gastrectomy for obesity in 2011. He had lost approximately 15 kilograms in weight, but his weight had then stabilized and in fact, he had begun to regain 2 kilograms or so within the past month. He had a history of depression and hypertension. A preoperative upper GI series showed that he had significant dilatation of his sleeve, particularly in the mid-portion of the remaining stomach.
The operation was performed uneventfully in one hour. The team placed six endoluminal sutures along the sleeve gastrectomy staple line. At the completion of the operation, the team performed an endoscopy which showed significant reduction in the size of the gastric reservoir.
After the successful performance of South Asia's first endoluminal bariatric procedure, the Apollo Hospital bariatric surgery service will soon perform similar procedures on a regular basis. Their surgical team has already been trained in this technique in New York by Dr. Goodman (along with the help of Ted Stephens of Apollo Endosurgery®). It is anticipated that the first few cases will be performed within the next couple of months. These will include sleeve gastrectomy and gastric bypass revisions for patients who have initially lost weight, but are now regaining weight due to either sleeve or pouch/stoma dilatation. The Apollo Hospital surgeons will also be examining the safety and efficacy of primary endoluminal gastroplasty in patients with a BMI of 30 to 40 as part of a clinical trial sponsored by Apollo Endosurgery® Inc.
"We believe that flexible surgery represents the most exciting innovation in bariatric and gastrointestinal surgery in years and we look forward to offering these incisionless procedures to our patients to help combat obesity and other conditions," said Prathap C. Reddy, M.D. Chairman of Apollo Hospitals Group.
J. Lee Putman, Global VP of Sales & Marketing for Apollo Endosurgery®, commented that, "We are thrilled and honored to enter into this collaboration with Apollo Hospitals Group to bring less invasive flexible surgical devices and techniques to Indian patients."
Dr. Goodman added that, "This represents a tremendous milestone for the evolution of GI surgery as it progresses from open to laparoscopic and now incision-free access."
This introduction of endoluminal incision-free bariatric surgery into India has been facilitated by PrimeSource MedTech, a new medical device market strategy and development company based in Mumbai and New York.
About Apollo Endosurgery®, Inc.:
Apollo Endosurgery®, Inc. is dedicated to revolutionizing patient care through the development of flexible surgery, which is emerging from the convergence of laparoscopic surgery and therapeutic gastroenterology. Flexible surgery minimizes the trauma of surgical access by taking advantage of natural orifices to deliver surgical tools to targeted areas. All of Apollo's products are compatible with existing flexible endoscope platforms.
About Apollo Hospitals Group:
With over 8,500 beds across 54 hospitals, Apollo Hospitals Group is one of the largest healthcare networks in Asia. The hospitals are multi-specialty tertiary care facilities with centers of excellence across in medical disciplines. Committed to the development of unique centers of excellence and quality healthcare accessible to all, Apollo Hospitals has earned Joint Commission International (JCI) accreditations for seven of its hospitals, the most by any hospital group in the region.
About PrimeSource Medtech:
PrimeSource MedTech is a young and dynamic healthcare company based both in Mumbai and New York. It aims to bring innovative medical technology in the fields of GI/bariatric surgery and gastroenterology into India at either clinical trial or commercialization phases by leveraging its many connections with the Indian healthcare community, the American and European manufacturing sector and US and Indian venture capital and private equity/banking firms.
###