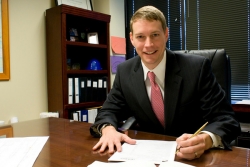 Denver, CO, January 25, 2012 --(
PR.com
)-- Higgins, Hopkins, McLain & Roswell is pleased to announce the promotion to partner (with effect from January 1, 2012) of
Derek J. Lindenschmidt
.
Since joining the firm in 2006, Derek's practice has focused on representation of construction professionals in a wide variety of both litigated and non-litigated matters, including the defense of developers and general contractors in complex construction defect lawsuits. He has defended against claims in all phases of development, from initial design through post-construction, and has been very successful in recovering from subcontractors in subrogation.
"Derek's singular dedication to our clients has resulted in favorable outcomes in mediated, arbitrated, and litigated cases. His work ethic and drive has helped us further the firm's continuing mission to reimagine the way construction claims are defended. I am delighted to have Derek as a partner," said founding member David M. McLain. Co-founder Sheri Roswell added, "Whether a client or a colleague, Derek is the one you want in your corner. Personally and professionally, we are truly fortunate to have Derek on our team."
"I am very excited and honored. HHMR prides itself on providing its clients with smart, yet aggressive representation. I am proud to be a part of a team whose number one goal is to look out for Colorado's builders and developers in some very trying times," commented Derek on his promotion.
About HHMR:
HHMR exists to embody and exemplify the principles of service and stewardship. In everything we do, we focus on serving our clients selflessly and to the best of our ability. In doing so, we always have in the forefront of our minds our obligation to act as the stewards of our clients' trust, confidences, and resources. HHMR is dedicated to serving the legal needs of developers, general contractors, and other construction professionals throughout Colorado, both in direct retention relationships and as assigned insurance defense counsel.
HHMR Contacts:
David M. McLain
(303) 987-9813 McLain@hhmrlaw.com
Sheri H. Roswell
(303) 987-9812 Roswell@hhmrlaw.com
Website:
www.hhmrlaw.com
Blog:
www.ColoradoConstructionLitigation.com
###