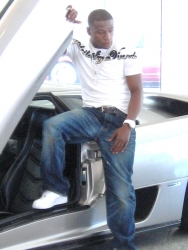 Los Angeles, CA, May 12, 2007 --(
PR.com
)-- The Giantto Group, a prominent Los Angeles-based jewelry company specializing in original and custom jewelry and exclusive timepieces, congratulates their friend Pretty Boy Floyd Mayweather on his fantastic win over Oscar De La Hoya last Saturday at the MGM Grand.
Giantto hosted a massive viewing party for the fight at the Planet Hollywood at the Caesars Palace Hotel and Casino on Saturday night where fans rooted the champ to an exciting win over Oscar De La Hoya in this highly anticipated sporting event.
Floyd Mayweather has been a fan of Giantto's watches for some time and has recently picked up a dozen of Giantto Titanics for himself and his crew. The champ was recently pictured sporting his White Edition diamond Titanic on the cover of the Beverly Hills Report and has expressed interest to the company to develop a limited special edition series of Titanic TKO time pieces.
Based in Los Angeles, The Giantto Group is one of the leading jewelry companies and watch designers in the U.S. and the World. Their jewelry and timepieces, from their original Giantto and Von Dutch Watches brands, are worn by the Who's Who of the entertainment industry and the world of sports. Giantto is also behind the one-of-a-kind Million Dollar Microphone™ that to date the has been used at the last Grammy Awards; Radio Music Awards, in hit music videos by international recording stars and now by Grammy-award winner Toni Braxton during the run of her sensational Las Vegas show, "Tony Braxton: Revealed".
"It was a great fight and we are proud to support our champ," said Anto G, Giantto's CEO. "We look forward to the champ's next big fight and will continue to root for him for years to come."
Giantto Watches and the Von Dutch Watches collection can be found at some of the leading jewelry retailers around the country and the world. For further information on Giantto, please visit www.giantto.com. For further information on Von Dutch Watches, please visit www.vondutchwatches.com. For pictures of Floyd Mayweather wearing Giantto, please contact phil@theviardoagency.com
###
MEDIA CONTACT FOR THE GIANTTO GROUP:
Phil Viardo/Laurent Planeix
The VBX Group.
310-499-4848
phil@theviardoagency.com
Laurent_planeix@yahoo.com