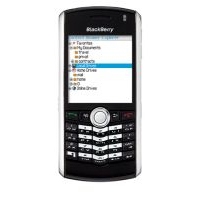 Orlando, FL, May 15, 2007 --(
PR.com
)-- ThinPrint, a member of the BlackBerry® ISV Alliance program, is today launching Content Beamer 3.5, allowing users to remotely access business files and network systems from a BlackBerry® smartphone and therefore increasing productivity for mobile professionals.
With mobility being one of the main factors in enhancing worker productivity, Content Beamer 3.5 for BlackBerry now allows users to access documents remotely from a document management system such as Microsoft Sharepoint. Content Beamer acts like a remote control, allowing mobile users to display, fax, edit and print documents stored on their business network from a BlackBerry smartphone.
Content Beamer 3.5 also allows users to transfer or save files, documents, emails and attachments between their BlackBerry smartphone and the document management system, which is done conveniently and securely. Users even have the ability to attach a document from their network to an email sent from their handset.
"Content Beamer 3.5 makes it easy and convenient for users to access essential documents that reside on company networks directly from a BlackBerry smartphone. The alternative for users is to boot up their laptop, find a suitable connection and then log-in to their VPN or other servers to get a document. By delivering this kind of functionality to BlackBerry users, information can be more easily accessed and shared, making mobile workers more efficient and more productive," said Nina Kroll, Business Development Manager at ThinPrint GmbH.
The new Content Beamer 3.5 – soon available worldwide – will be presented to trade professionals for the first time at Wireless Enterprise Symposium 2007 in Orlando/Florida.
Press photos are available for download here: www.thinprint.com/pressphotos
ThinPrint GmbH
ThinPrint is specialist for mobile enterprise solutions and for printing in distributed network environments. The solutions created by the software developer with headquarters in Germany and branches in the USA and Australia are deployed successfully worldwide by businesses of all sizes in a variety of industries. More than 500 major distributors and resellers in over 80 countries sell products made by ThinPrint GmbH. Thanks to numerous partnerships, client components using patent-pending .print technology have been integrated into the terminals, printboxes, PDAs and mobile phones of several leading hardware producers. A special role is played here by strategic partnerships with BlackBerry (RIM), Bluetooth SIG, Citrix Systems, Inc., Fujitsu Siemens Computers, Lexmark International, Inc., Microsoft, Nokia, Orange, Palm, Inc., Sun Microsystems Inc., Symbian Ltd., VMware, Inc. and XPS Software GmbH.
Press contacts
In North America:
ThinPrint, Inc., Francesca Brunello, Business Relations and Communications Manager, Francesca.brunello@thinprint.com, Tel.: 440.331.8446
In APAC:
ThinPrint, Stevan Caldwell, Regional Manager APAC, L 10,
275 Alfred Street / North Sydney / NSW / 2060 / Australia
T: +61 (0)2 94600319 / F: +61 (0)2 89203835, Email: stevan.caldwell@thinprint.com,
http://www.thinprint.com
Headquarters:
ThinPrint GmbH, Silke Kluckert, Public Relations Manager, Tel.: +49.30.39 49 31-66,
Fax: +49.30.394931-99, Email: press@thinprint.com, http://www.thinprint.com
In the UK:
Rod de St Croix, 0208 847 5291, 07751 929160, e-mail: roddsc1@blueyonder.co.uk
The BlackBerry and RIM families of related marks, images and symbols are the exclusive properties and trademarks of Research In Motion Limited.
###