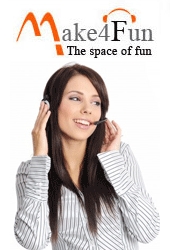 Ho Chi Minh, Vietnam, February 22, 2012 --(
PR.com
)-- Today Make4fun.com, the free community for free sharing and downloading of the funniest content around, has announced the completion of part one of an exciting new plan for their website. The registration process has been condensed into a single, simple registration. Make4fun has also instituted a points system to access premium content. Create an account at make4fun.com and start downloading and sharing funny content with users all around the world.
In the last few months, Make4fun began their plan for expanding and improving the quality of its content and services. The first step introduced two major improvements:
- First, a more convenient registration process: Visitors can create an account at Make4fun with their Yahoo or Gmail account - no further information needed.
- Second, the use of points to get additional services: Members at Make4fun will earn points for many activities on the site, including uploading their content, voting for the content, or inviting their friends to join the community. Users can use their earned points to get premium services, or download video clips, or download unique content from Make4fun.com, etc.
Make4fun.com has carried out these improvements in focusing on providing better support and choices for users. "We will keep providing funny, free downloads for all visitors and members, just as we have for the past five years. However, from now on, registered members at our website, especially those who make great contributions to the community, will get more benefits based on what they have done, such as the opportunity to download premium content, only available on our website," revealed Peter Nguyen, chief editor of Make4fun.com.
After five years providing free
funny ringtones
,
funny sounds
, funny stories, and funny videos to visitors, Make4fun has become a free, welcome space for people around the world to share and download funny content, as well as an inspiration for people to create their own funny stuff and share with others. With the motto "The funny space for Free download and Free sharing" Make4fun has had nearly 31,000,000 downloads, with over 356,000 active members.
The content of Make4fun is updated every day, thanks to the contribution of both its members and the website's editor team. The website is mostly known for their funny and crazy ringtones and funny sounds. The top downloads include a baby laughing ringtone (over 270,000 downloads), old phone bell ringtone (185,000 downloads), the "duckjob" sound and the crazy Taratitatutututu ringtone (over 110,000 downloads). Users are also paying lots of attention to a wide selection of funny video clips like Thanksgiving Turkey, Crazy Frog, or the scary pumpkin face and beer photos.
Members of the website can look forward to enjoying the new presence of high-quality, premium funny content, as well as many more positive improvements planned for the future. You can also join in with them and start sharing your DIY funny stuff and make new friends. Explore the website today to find out more about its services, and have fun listening to and downloading funny content at
www.make4fun.com
.
###