Jacksonville Lawn Service Finds "Green" in Economic Downturn
Local businessman leaves sputtering auto industry for growing green industry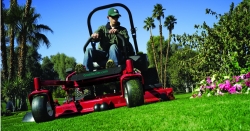 Jacksonville, FL, February 23, 2012 --(
PR.com
)-- We have all seen it first hand and most of us have experienced it up close, the economic down turn has hurt the housing market and small businesses in general. One small business in Jacksonville, Florida has taken a sharp focus on thriving during adverse health of the economy. Grass Butler Lawn and Landscape Maintenance was founded by local businessman Matt Goin. After spending almost 20 years in the automobile industry in all facets of the dealerships, he hung up his suit and decided to go to work for himself. This is not the first lawn service he set out to start on his own. He said, "I started a lawn service company 13 years ago with a co-worker from the dealership." He added "all we wanted to do was make some extra money and maybe pay a little extra on our home mortgages."
What happened next he says was a rapid growth in residential and commercial clients in need of a sharp, dependable lawn service. "The business grew so fast and one of us had to go with it full time!" Mr. Goin stated, "My partner and I talked about it, I had hugely successful dealership career and his wife was doing excellent in the corporate world, so he ran with it full time and I continued to pursue the automobile dealership."
The economic downturn hurt all industries hard, including the automobile industry. "When the stock market dropped in September 2008, the automotive industry came to a screeching halt." The single father decided to stick with it, "It can't last that long and be that bad," he added.
Fast forward 3 years and the economy was still stagnant, sure some industries were up over the previous years but the looming housing crisis and record unemployment continued to plague most industries. "I sat there, prayed for direction, put pen to paper, laid out a business plan with goals set out on a spreadsheet and asked why not me?"
Goin added, "I came up with a profit and loss strategy configuring a sliding scale of income and expense and then set out to verify my numbers with other lawn service owners," What he did next was jump full steam back into the lawn and landscape service.
He founded Grass Butler Lawn and Landscape Maintenance, Jacksonville's "Professional Lawn service." He says, "I lean on my dealership days as a successful service manager to create professional treatment for each of my clients and work with each of them for their individual landscape needs. I'm a people person and anyone who has worked with me knows I am a problem solver, I like to come up with solutions. I wanted to establish a reputable lawn service that does what they say they will do, when they say they will do it, no exceptions!"
He said, "Not much has changed in the green industry, the grass grows and people still need their yards manicured, albeit there are a lot more foreclosures and rentals than before."
Grass Butler specializes in residential and commercial lawn service and landscape maintenance. They service North east Florida including Fernandina Beach, Jacksonville, Jacksonville Beach, and Ponte Vedra Beach, Florida. They accept all major credit cards and have a very informative website www.grassbutler.com . They can be contacted at 904-545-0286, by email butler@grassbutler.com, on twitter @grassbutler, and Facebook as well www.facebook.com/grassbutler.
###
Contact
Grass Butler Lawn and Landscape Maintenance
Matt Goin
904-545-0286
www.grassbutler.com

Contact