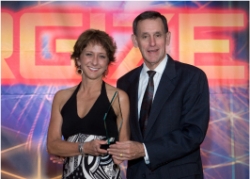 Steamboat Springs, CO, February 28, 2012 --(
PR.com
)-- At Adventures in Advertising's recent national sales summit of individually-owned affiliates, Steamboat Springs, CO-based company, Touchmark Promotions, was the recipient of a rare 5 awards in one night.
Delisa Laterzo, Touchmark owner and president, was named for the 9th consecutive year to the Multi-Million Dollar Summit (billed over $3 million in the past calendar year). Laterzo also accepted the following awards on behalf of her team: Heavy Hitter Award (largest booked dollar volume order in the past calendar year); New Accounts Champion (produced the most number of new accounts that placed orders in the past calendar year); Velocity Award (fastest growing affiliate based on percent of growth over the previous year); Pacesetter Award (billed over $500,000 or more in the past calendar year).
"In over 20 years in the industry, I have rarely known any other sales professionals with the same dedication to customers and drive to succeed as Delisa Laterzo and her team," said AIA Corporation CEO, David Woods. "It was a privilege to honor Delisa at our National Sales Summit with a well-deserved and rare 5 awards in one evening."
Touchmark Promotions has been serving clients worldwide since 2000 designing and implementing custom, high-impact promotional programs built around distinctive and unique branded merchandise. In addition to brand name products, Touchmark Promotions offers innovative ideas, creative design, fulfillment and printing services.
Touchmark has earned marquis status becoming an approved vendor for American Express and Wells Fargo. Their portfolio also includes promotional work for: Affinion Group, American Airlines, American Recreation Products, Ameriprise Financial, Big Agnes, Bill Barrett Corp., Copper Mountain, Costco, Delta Air Lines, Harvard Business School, Honey Stinger, Honua Kai Resort & Spa, ITG, Intercontinental Hotel Group, Intrawest, John Hancock, Little League International, Momentum, Moots Cycles, Mountain Hardwear, Ogilvy & Mather, Peabody Energy, Pernod, Sandestin Golf & Beach Resort, Smartwool, Starwood Hotels, Steamboat Ski & Resort Corp., Stratton Mountain Resort, Travelocity, Westin Verasa Napa, Winter Park Resort, and Wyndam Vacation Rentals.
Touchmark Promotions' main office is located at 1475 Pine Grove Road, Suite 204, Steamboat Springs, CO 80487.
For additional information on the power of promotional merchandise, contact Delisa Laterzo, owner and president at: dlaterzo@touchmarkpromo.com, call 970.871.6155. ext 11/888.399.3392 or visit: www.touchmarkpromo.com
About Touchmark Promotions, Inc.:
Touchmark Promotions is a promotional marketing company, headquartered in Steamboat Springs, CO, specializing in the use of promotional and premium merchandise as communication vehicles for a variety of business needs, including special event, sports and sponsorship marketing; product and service launches; brand identity; business/client gifts; tradeshow marketing; employee and distributor rewards and recognition; premiums and incentives; direct marketing; safety awareness, and online stores.
###