Sustaina Beverage Group, LLC Announces Release of Sustaina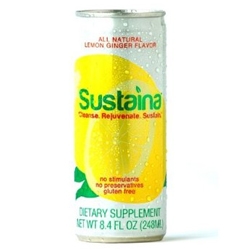 Monterey, CA, March 02, 2012 --(
PR.com
)-- Sustaina Beverage Group, LLC today announced the launch of their new product, Sustaina Daily Detox, a ready-to-drink vitality supplement formulated to safely, effectively and affordably cleanse the body of everyday toxic exposure.
The body is exposed to toxic substances in two ways: through diet and through exposure to the environment. Both the dietary and environmental exposures are direct toxins that the body's internal cleansing mechanisms must deal with on a daily basis. Through the detoxification properties found in lemons and a blend of other herbs and vitamins, Sustaina cleanses, rejuvenates, and sustains the body from the inside out.
According to www.livestrong.com, "A natural cleanse is ideal for all healthy individuals to help rid the body of toxins and improve health." The reputed website goes on to assert that other reported benefits of cleansing include, "more energy, improved mood, improved digestion, weight loss and general healthier eating."
For those who want to feel and look their best everyday, Sustaina is a 100% natural and delicious alternative to harsh detox drinks. It can be enjoyed anytime in conjunction with any diet, and without the aid of stimulants. Because it is formulated to assist and promote the body's normal detoxification processes, Sustaina naturally promotes stamina, clarity of mind and healthy skin.
Derek Smead, co-Founder and President of Sustaina Beverage Group LLC, is excited that Sustaina can finally provide such a beneficial product for consumers. He states, "We are thrilled that after two years of development, Sustaina has launched. We are looking forward to making our mark in the health and wellness community by producing an alternative and delicious way to combat the effects of daily toxic exposure."
Sustaina is made in the USA at FDA inspected and certified bottling facilities. It is available online at www.amazon.com. For more information about Sustaina, visit www.drinksustaina.com.
###
Contact
Sustaina Beverage Group, LLC
Will Elkadi
888-624-8321
drinksustaina.com

Contact