ERA to Construct New Headquarters Building
ERA a.s. growth drives need for increased product development space.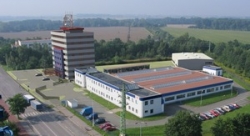 Pardubice, Czech Republic, March 03, 2012 --(
PR.com
)-- ERA a.s.,(ERA) announced today that it will construct a brand new headquarters building adjacent to its current factory location in Pardubice, Czech Republic. The company is experiencing increased demand for its products and services which is driving the need for additional development and administrative space. The modern eight story building will house as many as 150 people. Official planning permission has already been received and construction is expected to commence during the summer of 2013.
Michal Hon, Chairman of OMNIPOL, ERA a.s. majority stock holder, said, "Our confidence in ERA has been substantiated by the market's acceptance of both our civilian and military product lines. This new office building will substantially improve our ability to deliver new and enhanced products with better quality in shorter timeframes."
Vladislav Hofman, Managing Director of ERA said, "We are delighted that our business is growing at a pace that requires us to expand and modernize our facilities."
About ERA a.s.
ERA a.s. is a leading supplier of next-generation surveillance and flight tracking solutions for the air traffic management, military, security and airport operations markets. With proven multilateration and ADS-B technologies delivering high-performance, high-reliability surveillance solutions, the company has over 100 airport, air traffic management and military customers throughout the U.S., Europe, the Middle East, Africa, South America and Asia.
###
Contact
ERA a.s.
Andrea Jilkova
+420 467 004 116
era.aero

Contact