Color Trends for 2012: A Bright Spring and Summer Forecast
The award-winning design team at Beasley & Henley Design publish their color trend forecast for spring and summer, 2012.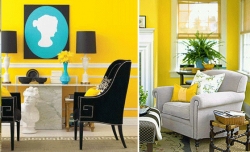 Winter Park, FL, March 07, 2012 --(
PR.com
)-- Trend forecasting has begun for spring and summer 2012. Interior design heavy-hitters Beasley & Henley have published their trends for 2012 predictions. When industry leaders weigh in, people tend to listen. And when the message is one of brightness and includes throwbacks to happier times, it is welcomed.
According to Beasley & Henley, bright, strong colors dominate all looks. While they are often grounded in the ever-popular grey or fresh white, liberal amounts of fuchsia, bright blue, sunny yellow, and bold purple are popping up everywhere.
"The long days of summer 2012 will reflect a festive, upbeat mood that this country has been longing for," says Beasley & Henley Interior Design principal Troy Beasley.
Lemony yellow slip colors help brighten a family room; breezy bright draperies add new life to a bedroom; and a splash of bold, cherry red paint reinvigorate a tired foyer.
These colors are not only vibrant and fun, but often have a distinctly 1970s air to them. Chevron patterns on fabrics, color blocks on draperies, Pucci-inspired throws, and fun melamine dinnerware reflect the flashy days of the past, repurposed in trends for 2012.
In a move away from the minimal palates of past years, color trends for 2012 feature an active mixing of colors. Turquoise walls with a soft red rug, or a coral chair with a lime green pillow, may not be out of the question.
"I am normally not a great fan of trends," says Beasley, "but I love this one."
Beasley advises homeowners not to invest in expensive pieces for this color trend. Colorful walls and draperies, available in cost-effective fabrics, allow home decorators to jump on this vibrant bandwagon without spending a lot of money.
In the meantime, says the designer, take out the fiery orange, lipstick red, and electric yellow and enjoy a great spring and summer. The future for home design is bright – especially for spring and summer 2012.
About Beasley & Henley
Beasley & Henley Interior Design of Winter Park, Atlanta, and Naples is a boutique-sized interior design firm known for artistic and award-winning interior design and architectural detailing. Beasley & Henley Interior Design works with custom builders, large builders, and developers, designing and merchandising model homes, condos, common areas, and commercial spaces in all price ranges in Florida and throughout the U.S.
For more information on Beasley & Henley and to see photos of their work, please go to to
www.beasleyandhenley.com
.
Call Stephanie Henley at 407-629-7756 for pricing and scheduling information.
###
Contact
Beasley & Henley Interior Design
Stephanie Henley
407-629-7756
www.BeasleyandHenley.com
www.blog.beasleyandhenley.com
www.facebook.com/beasleyandhenley

Contact