New Crowdfunding Platform Exclusive to Film Now Accepting Submissions
Passerby, a new film-only crowdfunding platform, is now accepting filmmaker submissions with an eye toward an April 2012 launch. Please visit http://passer.by for details.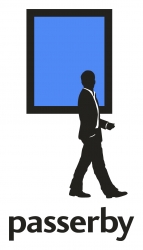 St. Louis, MO, March 08, 2012 --(
PR.com
)-- Passerby, a crowdfunding platform focused exclusively on independent film, recently launched a form for filmmaker submissions at http://passer.by. Passerby will accept submissions as it works toward a full launch, with projects in funding, scheduled to occur in April 2012. "We want to offer a crowdfunding alternative that focuses specifically on the needs of the filmmaker," said Todd Metheny, founder and CEO at Passerby. "There's a movement happening, right now, focused on empowering the artist-entrepreneur. We want to help that movement grow," Metheny added. Josh Clayton, founder and Chief Creative Officer at Passerby noted that, "Filmmakers have a unique brand. We want to help them raise money in an environment that is consistent with that brand."
Passerby was founded by Metheny and Clayton in January of 2012. Passerby made a key acquisition in February of 2012, when Keith Homco joined their team as VP of Product. Passerby was recently awarded "Best 'Barely Legal' Business Plan" at Startup Weekend-St. Louis and was one of several recent winners in the Mass Challenge tweetable pitch competition.
Inquiries related to Passerby should be emailed to the attention of Todd Metheny at info@passer.by.
http://vimeo.com/channels/299767
http://passer.by/blog/welcome-to-the-passerblog/
###
Contact
Passerby
Todd Metheny
314-737-8396
passer.by
todd@passer.by

Contact