Life Coaching Certification Site Offers Cutting-Edge Training Techniques for Growing Career Path
A new website, http://lifecoachingcertification.com/, dedicated to life coaching certification and training provides must-have skills for anyone interested in life coaching. The site helps people become certified life strategies coaches.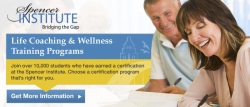 Rancho Santa Margarita, CA, March 14, 2012 --(
PR.com
)-- Whether it's wellness coaching, corporate coaching, green living coaching or food psychology coaching, life coaching as a career continues to deepen and broaden, providing more options and opportunities than ever for certified life coaches. To that end, a brand-new website now offers the latest life coaching training, designed to help more people learn the top strategies and skills needed to work as a successful life coach. In particular, the site at http://lifecoachingcertification.com/ offers details on The Spencer Institute's online Life Strategies Coach certifications.
The self-paced online program offers cutting-edge techniques and time-tested principles for becoming a successful life coach. In addition, the Spencer Institute life coach training also focuses on creating and growing a profitable life coaching business.
"Having a credible certification in this field is incredibly important to getting started and staying successful, so the Spencer Institute has created this professional certification that allows coaches to help more people succeed and realize their dreams," said Dr. John Spencer Ellis, CEO and president of The Spencer Institute. "If you enjoy helping others achieve their goals and can already imagine how you will run a thriving life coaching practice, this online certification is an ideal option for getting more education and inspiration."
The training focuses on both the body and the mind, education and practical business skills. A certified life coach can work with clients on their relationships, physical health and wellness, life goals, personal development and more to achieve all-around wellness.
"Our life coaching training will help you enhance your own well-being while pursuing a rewarding career that helps others do the same," Ellis added. "Life coaches can work in a variety of fields and disciplines, using their practical and business skills to make a difference."
About the Spencer Institute and Life Coaching Certification
Founded by Dr. John Spencer Ellis, an international leader in wellness coaching, personal development and fitness, The Spencer Institute offers life coaching, holistic education, nutrition coaching, sports psychology and wellness training certification programs delivered in online and distance learning formats that are designed to provide a step-by-step blueprint to success. The programs were developed to help people find the career of their dreams while helping others live better lives. For more information about the Spencer Institute or online life coaching certification, please visit
http://lifecoachingcertification.com/
Contact
John Spencer Ellis Fitness & Personal Development
John Spencer Ellis
949-589-9166
http://www.johnspencerellis.com

Contact