Rose Paving Donates $10,000 to University of Chicago's Airway Biology Research Group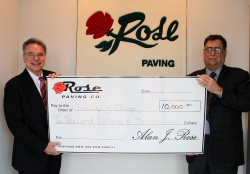 Bridgeview, IL, March 14, 2012 --(
PR.com
)-- As part of its corporate community relations program, Rose Paving Company, headquartered in Bridgeview, IL, has donated $10,000 to Dr. Alan Leff, principal investigator of the Airway Biology Research Group at the University of Chicago. Alan Rose, CEO, presented a check to Dr. Leff at the Rose Paving corporate headquarters on Thursday, March 1.
The Airway Biology Research Group is the federally funded center for structured multidisciplinary collaboration of MD, and PhD investigators who are appointed in the Departments of Medicine and Pediatrics, and whose central interest is in the cellular pathophysiology of asthma and the maturational development of airway cells and tissues. Every cent the group raises and receives is put towards studying various therapies and treatments for asthma.
"Reaching out to the surrounding community is of tremendous importance to all of us at Rose Paving. This donation is of particular significance to me because I have suffered with asthma, and the funds will help the University of Chicago aid their patients with more research and resources," said Alan Rose, CEO. "Furthermore, I hope this contribution will raise awareness for asthma while also encouraging other charitable outreach programs to donate to their local medical organizations."
In addition to this effort, Rose Paving's community relations program contributes to or sponsors a wide-range of community endeavors throughout the year. Read more about the program at www.rosepaving.com/community-outreach.
About Rose Paving Company:
Rose Paving Company leads in providing complete parking lot management solutions to commercial and industrial properties nationwide. Through strategic business units (SBUs), unique in the industry, Rose Paving is able to offer an expert approach to parking lot management for each situation or circumstance in a specific region.
Rose Paving performs all services related to paving including asphalt patching and repair; asphalt resurfacing; advanced sealcoating; hot cracksealing; installation and repair of concrete curbs, walks and pads; storm sewer repair and installation; lot marking; and green paving solutions.
Established in 1974, Rose Paving Company has three decades of leadership and an impressive, nationwide customer base. Rose Paving is a privately held company that maintains its corporate headquarters in Bridgeview, Illinois, and operates branch offices nationwide.
Contact
Rose Paving Company
Candace Johnson
(708) 430-1100
www.rosepaving.com

Contact