U.S. Concrete Precast Group Earns Top Award for Providing a Stabilizing Force for the Military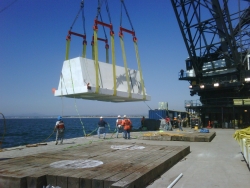 San Diego, CA, March 20, 2012 --(
PR.com
)-- U.S. Concrete, Inc. (NASDAQ: USCR) today announced that its San Diego-based U.S. Concrete Precast Group-Southern California earned the top prize in the Underground Division of the annual Creative Use of Precast Awards sponsored by the National Precast Concrete Association. The CUP Awards for 2011 were presented during The Precast Show March 1 in Orlando, Fla.
U.S. Concrete Precast Group won its award for a series of precast concrete caissons that were custom-built to stabilize sensitive military equipment 60 feet deep in the Pacific Ocean. The military contracted with U.S. Concrete Precast Group to construct the bulky structures to provide the stabilizing force needed on the ocean floor.
Eight 36-inch diameter cylindrical tubes rising 22 feet out of the ocean floor contain magnetometer equipment for the U.S. Navy's minesweeper range. The manufacturer designed precast concrete round piles to slip over the tubes, with caissons designed to slip over the round piles/tubes. The caissons were filled with 6-inch low-iron stone, capped with a precast top and grouted in place. Precast scour mats were used around the structure to prevent erosion. Each completed caisson weighed in at a whopping 400,000 pounds, with the base section alone at 279,600 pounds. The structures were loaded at the plant and shipped at night under escort from the California Highway Patrol. The units were then barged to the site about a mile from the San Diego coast and set into place with a 700-ton barge crane.
Contact
US Concrete
Wade Khalil
713-499-6223
www.us-concrete.com

Contact