Covista Announces New Products, New Look
Company Unveils New Image and Product Lines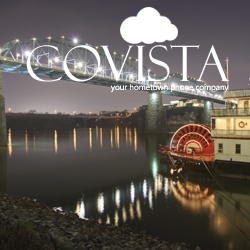 Chattanooga, TN, March 21, 2012 --(
PR.com
)-- Covista Communications, Inc. (Nasdaq: CVST), a provider of state of the market residential telephone systems and business cloud communications services, announced that its new product lines and its new look will be presented at EXPO Chattanooga, March 21.
"We are pleased to take part in EXPO Chattanooga," said Covista Chairman & CEO Warren Feldman. "Covista today is strengthened by the dedication and loyalty of its employees, and the developments of its new business and residential products. The Company will soon mark its 30th anniversary - an important milestone. You're going to be hearing great things from us."
Covista's new product lines use the latest technologies to provide efficient, economical communications for small to medium businesses.
Select Choice
is a full-featured, cloud-based, VoIP solution, aggressively priced and competitive in the rapidly growing cloud solution PBX technology market.
Covista is America's "hometown phone company" for residential communications, combining traditional phone company reliability with live human support, 24/7. Hometown Advantage is a no-nonsense, feature-rich communications package for the home that provides traditional phone service at Internet prices.
Covista's EXPO Chattanooga announcements are the first in an exciting series of product presentations. Look for Covista at the Chattanooga Convention Center March 21st.
About Covista Communications, Inc.
Covista Communications, Inc. (Nasdaq: CVST) is a leading provider of cloud communications, switched and dedicated voice services. Its portfolio of residential and B2B solutions includes affordable Internet phone services ("VoIP" or Voice over IP), hosted communications and traditional phone services. Covista is uniquely positioned: a real phone company providing everything cloud. Nearly thirty years old, the Company has built its reputation by offering best-price, best technology products and services, backed by a commitment to real-human customer support. Covista services residential customers, small to medium sized businesses, and distributed enterprise organizations.
Your Hometown Phone Company
www.covista.com
Contact
Covista Communications, Inc.
Jackie Barry
423 648-9700 x 9760
www.covista.com

Contact