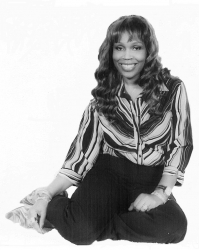 Sugar Land, TX, May 26, 2007 --(
PR.com
)-- A Sugar Land Mother of 6 who successfully launched her own homebased business in the Health and Wellness Industry after she lost a whopping 70 lbs on an all natural, delicious, organic, herbal juice and kept it off over 2 years is hosting a free lunch workshop. She has had tremendous success with controlling an incurable auto-immune disease she had suffered from called sarcoidoses which is similar in ailments to fibromyalgia and Lupus. Leola Anifowoshe, a native Houstonian, swears by the anti-aging and natural energy benefits of all natural herbal juices and will give out free bottles to attendees to experience the energy and excitement for themselves.
After "getting her life back" from consuming the product faithfully, she is now sharing this valuable knowledge with other people who also aspire to just feel well all the time or who is interested in how to start a low-cost home based business. Ms. Anifowoshe states that a best selling economists Dr. Paul Zane Pilzner describes the Health and Wellness industry as "The Next Trillion Dollar Industry" because baby boomers want to stay young looking and healthy.
She will also share with you information about a secret ingredient you can readily find in any health food store that made one woman look so young, that when she was introduced to her adult son's girlfriend, she was accused of being "the other woman."
She will be hosting 2 workshops to share how anyone with only 4 hours a week can earn a real income in the Health and Wellness industry as well as look 10-20 years younger with enough energy to boot. The workshop is also for those who just want to gain more knowledge about the power of anti-oxidants and anti-aging and natural energy.
There are 2 workshops that will be held at the Sugar Creek Country Club in Sugar Land. On Thursday, May 31st at 12 noon for Lunch and on Saturday, June 2nd at 9:00 a.m. for Breakfast. If you are interested in attending this Free Workshop and receive free product samples simply call the RSVP hotline at 800-921-6850. You must hurry because these workshops fill up fast.
###