Smooth Sensations Introduces New Line of Body Massage Candles
Smooth Sensations LLC, a new provider of body massage candles, is introducing a new product line for both wholesale and retail distribution. Founder and owner, Cheryl Fox, has created an amazing family of organic, soy-based candles infused with Shea butter, that stimulates the senses on contact. Likewise, the variety of fragrances enhances the "smooth sensation" of your hot-oil massage. Simply light the candle and apply the melted oil by hand or directly to the skin.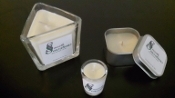 Grapevine, TX, March 29, 2012 --(
PR.com
)-- Smooth Sensations LLC is introducing a new product line consisting of soy-based body massage candles. While there are numerous heat-based massage treatments, soy-based candles enable a "hot oil" massage which feels incredible and provides skin nourishment and moisturizing with all-natural ingredients, like Shea butter.
The product line consist initially of three candle sizes (1 oz., 4 oz. and 10 oz.), so it's easy to sample. The candles are scented with essential oils and original blends, and there are thirty fragrances to choose from. Going forward, Smooth Sensations will expand it's product line to include other natural, skin-care products.
Consumers can enjoy Smooth Sensations Body Massage Candles by ordering directly from their web site or through participating spas and distributors.
Contact
Smooth Sensations
Jordan Tanner
940-648-2863
www.smoothsensations.biz

Contact