Stunning New TV Series "Another Shade of Blue with Ty Sawyer" Premiers at MIPTV Cannes as Production Begins on Season Two
The highly acclaimed new television program, "Another Shade of Blue with Ty Sawyer," will be shooting its second season starting in April 2012. The much-anticipated first season of this prime time series will debut to broadcasters at the upcoming MIPTV markets on April 1, 2012. Content Media Corporation and KoldCast Entertainment Media have acquired international distribution rights to the new adventure travel series "Another Shade of Blue with Ty Sawyer."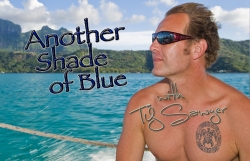 Cannes, France, March 31, 2012 --(
PR.com
)-- Produced by Wright Productions located in Southern California, USA, "
Another Shade of Blue
" follows the compelling adventures of photographer and writer Ty Sawyer while on assignment as he travels to the planet's most remote, raw and real destinations. Hosted by Sawyer, former editor of "Islands," "Sport Diver," and "Skin Diver" magazines, as well as the creator of the new Ezine, "Dive Traveler," Ty ventures off the beaten path to aquatic destinations to discover and photograph the pulse of the planet. In the first season, Ty joins up with
Wyland
in Islamorada to experience a day in the life of a true artist. In Grand Cayman, Ty meets up with renowned sportsman and environmentalist
Guy Harvey
to discover his passion for ocean conservation. Ty's adventures in French Polynesia bring him face to face with a lemon shark feeding frenzy. On Catalina Island, Ty encounters a massive angry bison that chases him and his video crew to the edge of a cliff. Ty's first season adventures also find him bungee jumping into a rock canyon in Cabo San Lucas, participating in an ancient Mayan ritual in Cozumel and reintroducing crocodiles into the wild in Belize. Vancouver Island, Madagascar and Bali are just a few of the destinations that Ty Sawyer will be exploring in Season Two.
Another Shade of Blue is followed daily on Facebook and Twitter by over 60,000 fans worldwide.
Season one includes 12 half-hour episodes; season two is being produced in 2012 for distribution in 2013. "Another Shade of Blue with Ty Sawyer" is produced and directed by William R. Wright and Jeannie Openshaw Wright of Wright Productions, Los Angeles, Ca.
Content Media Corporation plc is a publicly traded, global entertainment media company based in London with offices in Los Angeles, New York and Toronto, which owns and distributes a significant library of film, television and digital assets.
MIPTV 1 April, 2012 - 4 April, 2012 Content Television & Content Digital will be at MIPTV for meetings and screenings. Stand details:RB.44 Office details: MIPTV 2012 The PALAIS – La Croisette Cannes
KoldCast Entertainment Media is an entertainment licensing, distribution, production and marketing company specializing in television properties, which include original episodic programming, documentaries and short films. KoldCast's media properties include KoldCast TV (an international television network which distributes programming to entertainment consumers around the world via the KoldCast TV Network site, found at www.koldcast.tv, via set-top boxes, connected/smart TV's and mobile devices, and via unique relationships with broadcast and cable TV networks and other television distribution venues around the world), and The Sixth Wall (a cultural commentary and entertainment magazine).
For further information contact:
KoldCast Entertainment Media- (001) 949-861.8949.
Wright Productions- (001) 951-699-3636
Contact
Wright Productions, LLC
Jeannie Wright
951.699.3636
anothershadeofblue.tv
wrightvideos@aol.com

Contact