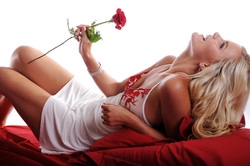 New York, NY, April 06, 2012 --(
PR.com
)-- Redkora Silk Sleepwear will be featured on the Hamptons TV Home Shopping channel and the America One Home Shopping channel, more than 30 times throughout April and May of this year, reaching approximately 38 million households nationwide. The segment is stunning with Elizabeth introducing redkora with their new model "Kristin Kerry" featuring the gorgeous 100% pure high quality redkora Silk Sleepwear range.
"We were very excited to be approached by IMC Pictures to do the segment. IMC Pictures has done numerous very successful segments with clients such as Sony, Yahoo and Macy's," said Luxury Business Owner, Anne Watson (also known as "Annie"). "We took the opportunity to visit the studio in Florida for the shoot and we had so much fun with Kristin and the staff at IMC Pictures that we are looking forward to coming back again next year too with our new Silk Sleepwear range for 2013."
Redkora Silk Sleepwear is all about making every woman feel beautiful, amazing and gorgeous, naturally. It is all about spoiling, pampering, finding the beauty within, and looking after you and your loved ones!
Redkora has become quite the sought after trend in the finest luxury sleepwear due to its special attention to not only making you look and feel luxurious in your sleepwear, but also help boost your health by wearing it! Find out more by watching the segment… A preview of the segment can be viewed on our website
www.redkora.com/media
.
"With so many people these days wanting eco friendly products, and yet wearer friendly products, this is the perfect silk luxury sleepwear which is not only beautiful to look at, and feels so smooth and sexy on, and like a million dollars on when you wear it, but it's also very good and healthy for you too," said Watson.
Watson says: "Silk apart from feeling so luxurious, also has many natural health benefits some of which include:
* Silk is allergy free as dust mites and moths do not like silk;
** Silk proteins contain 18 of the essential amino acids which can help your health including calming the nervous system;
** Hairdressers say by using a silk pillowcase the silk proteins can moisturize your hair whilst you sleep and even prevent hair loss;
* Silk is smooth so can help sooth sunburn or those suffering from sensitive skin inflammation."
"At the end of the day, we want to relay to the world that we are at forefront of health and beauty in sleepwear for all our customers and their families," said Watson. "And by launching redkora we are able to help people become healthier, happier and we hope we can really make a difference in our customer's lives."
redkora commenced its business in January 2010. Further reference material can be found linked below.
For more information contact:
Anne Watson, Luxury Business Owner, redkora
PO Box 88, Collaroy Beach NSW 2097
Ph: 614 09 813121
E: anne@redkora.com.au
redkora's catalogue http://www.redkora.com/catalogue.html
Launch video http://www.redkora.com/media.html.
redkora article http://www.redkora.com/silk-amino-acids.html
Facebook page http://www.facebook.com/redkora