"Sleeper" Extends World Premier After Performances to Sold-Out Responsive Audiences in Manhattan
The new play "Sleeper" by Stephanie Bramson has extended performances after an overwhelming positive response to the adventurous black box performances at the Manhattan Repertory Theater. The simply staged piece of theater is driven by breakout performances from Christina Roman and Rocco Chierichella and direction by Leal Vona. Performances continue April 11th, 12th, and 13th.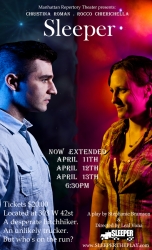 New York, NY, April 07, 2012 --(
PR.com
)-- The world premier of a new work by playwright Stephanie Bramson will be extending performances after a successful run to sold-out and responsive audiences. Sleeper is a minimalist black box performance directed by Leal Vona and driven by the complex characters of Adam and Isabelle – played by Rocco Chierichella and Christina Roman respectively.
Manhattan Repertory Theater, a longstanding establishment for upcoming playwrights, is hosting the world premier of "Sleeper" through its extended performances on April 11th, 12th, and 13th at 6:30 pm. Despite the minimally advertised location on the sixth floor of a midtown building, the two person cast held the rapt attention of multiple full houses during the 80 minute show.
"Sleeper" traces the cross-­‐country quest of an unlikely trucker and a desperate hitchhiker as they travel across country. Adam is a midwestern artist who never left home before finally hitchhiking out of North Dakota in search of the woman he loves. The only ride he can catch is with Isabelle, a feisty and uprooted trucker who is both fiercely independent and emotionally scarred. With so much time together in the cab of an interstate truck, there is no telling what could happen between two polarizing characters.
The audience is granted unique voyeurism: not only do they bear witness to the conversation from the first awkward greetings, but they are also granted glimpses into the past of the occupants of the cab. Audiences were moved to laughter and to tears as Adam and Isabelle grapple with their identity and connection. The humanity is the focus of the production with simple and effective staging by Vona: a few chairs and simple lighting bring the rich tapestry of the road to life and highlight the developing relationship between Adam and Isabelle. Rocco and Christina hold interest without gimmicks or the visual aide of complex sets – a true accomplishment from young actors on a compressed rehearsal schedule.
Sleeper was written nearly four years ago and has been in a state of constant revision since the first staged reading: also featuring Christina Roman as Isabelle. In the saturated world of New York theater it is a refreshing return to the origins of black box theater: simple and adventurous theater focused on the craft and characters. This is the first fully realized production of the play and the first NYC production by Bramson. It will be performed on the additional dates of April 11th, 12th and 13th at 5:30pm at Manhattan Repertory Theater located at 303 W 42nd St # 614. Tickets are $20. More information is available online at SLEEPERtheplay.com.
Contact
Sleeper Production
Christina Roman
571-437-5809
www.sleepertheplay.com

Contact